Friday, September 9, 2011
Two OU women chosen for Michigan professional boards
By Eric Reikowski, media relations assistant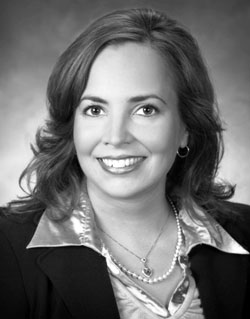 Lauer Hoover was named to the Domestic Violence and Prevention Treatment Board.
Two women with Oakland University ties have been chosen by Governor Rick Snyder to serve on professional boards for the State of Michigan.
Alumna Kathryn Lauer Hoover was appointed to the Domestic Violence and Prevention Treatment Board and faculty member Luellen Ramey, Ph.D., was named to the Board of Counseling.

Lauer Hoover earned a B.A. in communication from OU in 1997 and was a member of the university's forensics team, competing at state, national and international levels. She later began postgraduate studies at OU and holds a Master of Education in school counseling from Grand Valley State University.

She is a licensed K-12 school counselor working at the Richfield Public School Academy in Flint and recently was elected president of the Flint branch of the American Association of University Women (AAUW). She also has been named one of two Michigan delegates to Vision 2020, a national women's leadership project dedicated to advancing gender equality by inspiring dialogue about women and leadership.

"I am honored to serve the citizens of our state in advocating for those who are affected by domestic violence," Lauer Hoover said. "Both my personal trials and professional counseling experience dealing with the aftermath of domestic violence give me a unique understanding I can put to good use while serving on this board."

She is quick to praise the educators who helped guide her to success -- including Dr. Ramey, whom she had as a professor while at OU.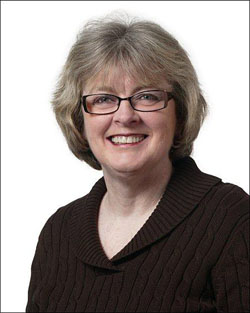 Dr. Ramey has been appointed to the State of Michigan's Board of Counseling.
"I have the utmost respect and admiration for Dr. Ramey," Lauer Hoover said. "I always speak very highly of OU and encourage others to pursue their education here. I am excited to serve on the board, and I think it speaks volumes about the quality of education I received from her and the university."

Dr. Ramey is an associate professor in Oakland's Department of Counseling and served as chair of the department from 1995-2008. She co-developed the doctoral program in counseling in 1997.

Additionally, Dr. Ramey has directed the School of Education and Human Services Counseling Center, as well as the Adult Career Counseling Center and recently celebrated 30 years with the university. She sees her appointment to the Michigan Board of Counseling as an opportunity to give back to the profession.

"I anticipate that my appointment will be beneficial to the department and to graduates because I will be able to influence policies that relate directly to licensure," Dr. Ramey explained. "I am also delighted to see a former student appointed to a board."

A respected member of her field, Dr. Ramey has contributed numerous articles to peer-reviewed journals, offering expertise on subjects ranging from re-employment counseling, clinical interventions, trauma treatment, ethics in counseling and wellness counseling. She will serve the remainder of a four-year term expiring in 2013. Lauer Hoover will serve a three-year term ending in 2014.

Two women with Oakland University ties have been chosen by Governor Rick Snyder to serve on professional boards for the State of Michigan.

Created by Katherine Land - Deleted (land@oakland.edu) on Friday, September 9, 2011
Modified by Katherine Land - Deleted (land@oakland.edu) on Friday, September 9, 2011
Article Start Date: Friday, September 9, 2011