By Stephanie Held, media relations intern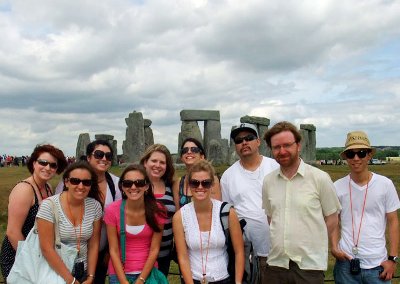 Butler, along with other OU students, were able to travel to Stonehenge and other historic sites during the British Studies at Oxford program.
With 20 study abroad programs available each summer from Ireland to Austria, Oakland University and its International Education program provide worldly educational and personal growth opportunities for students.
Oakland's study abroad programs offer a unique approach to learning and expanding an individual's skills because they put students in direct contact with their area of study.
According to Rachel Butler, an OU senior who recently returned from her trip abroad to Segovia this summer, said the way to learn and love learning is not to just read about it on the Internet or watch television, but actually to be thrown headfirst into it.
Language students are immersed in the language they're studying, international business students get to meet international business professionals and examine foreign economies and markets, art students get to look first hand at museums and collections, rather then just slides or pictures in a book. Education students are immersed in foreign classrooms and observe different teaching approaches.

Butler participated in the Oxford program last summer. She is a senior in the Honors College and a Presidential Scholar double-majoring in Spanish and English, with the hopes of being accepted into the Secondary Teacher Education Program program at OU this fall.
Butler (second from the right) traveled to Segovia, Spain, for her second study abroad program during the 2011 summer semester.
"In terms of academics, I have improved my knowledge in both majors, and I am even more motivated to become a teacher because now I will be able to tell my students about the places I've seen and encourage them to travel too," said Butler.

Many OU-based programs are offered only in the summer, such as the British Studies program at Oxford, San Marino, Hydra, Greece, and Israel.

Utilizing an international education program, AHA International, programs are available to OU students that draw participants from about 20 different American universities, adding one to four OU students to diverse total group of 20 to 40 participants.

The Oakland study abroad program had a huge impact on Butler's educational decisions. She explained that the British Studies at Oxford program is the first part of the reason for why she chose to attend Oakland. Following this decision, Butler also received scholarships from Oakland that helped her with financing her adventures across the Atlantic.

"This university truly has a fantastic study abroad program, and I received so much support from various faculty and staff in collecting information about the different programs, the classes I would need, scholarships that I could apply for, and everything in between," she said.

Brian Connery, Professor of English and director of the British studies program in Oxford, England, explained that the programs place students within new academic environments, which puts more responsibility on the student for learning. Mostly though, the experience is cultural and personal: providing an opportunity to adjust to a new culture and to rely on a new support system.

"For OU students in particular, this can be an exciting challenge," said Connery, "and most students return with a renewed or enhanced sense of confidence and a clearer sense of their own assets and skills."
This year, the British Studies at Oxford Program through OU has had its largest group yet, with 16 students enrolled. It is the oldest program running and some of the courses offered are approved for general education credit at OU.
Connery further explained that OU summer programs are by far the heaviest enrolled of all study-abroad programs. They are more convenient, less likely to slow down progress toward graduation, and cost less money than full-semester programs.
In response to the overall impact that Oakland's study abroad programs have had on Butler's educational experience, she said, "All I know is that I've made fantastic friends, I now drink tea on a regular basis, I speak much better Spanish, and I tell every other OU student I meet that if possible, he or she needs to study abroad. It's a life-changing experience."
For more information about study abroad programs at Oakland,
view the website
.
With 20 study abroad programs available each summer from Ireland to Austria, OU provides worldly educational and personal growth opportunities.

Created by Katherine Land - Deleted (land@oakland.edu) on Friday, September 2, 2011
Modified by Colleen Campbell (cjcampbell@oakland.edu) on Tuesday, February 19, 2013
Article Start Date: Friday, September 2, 2011