By Eric Franchy, Strategic Programs Marketing Assistant
Do you love animals? Are you interested in a program that can benefit both you and your community? If so, then Oakland University's Animal Assisted Therapy Certificate Program is perfect for you. The Animal Assisted Therapy (AAT) program is designed to help students develop an overall understanding of the human-animal bond and AAT.
Students will explore and discover the healing implications AAT has on a wide spectrum of populations. Animal assisted therapy provides educational, therapeutic and health benefits for at-risk children and adolescents, the elderly and other special-needs populations. The practice can additionally be used to address several other social issues such as aiding patients in nursing homes, counseling centers and hospitals. Through the program, students will learn how to incorporate animal assisted therapy in current practices, how to start their own non-profit organization, where to volunteer and much more!
Director of the program, Amy Johnson, was able to start the certificate program through a grant from OU's Resource Development Fund in 2007. She realized the need for a 'train the trainer' program through a combination of her research and experience in the field, and an influx of non-profit requests for AAT training.
Although this unique certificate program is offered through the School of Nursing, it is completely online and available to anyone interested, regardless of their area of study/practice. Past students have taken the program from all over the nation and more than four different countries! OU's interdisciplinary academic approach to animal assisted therapy can benefit and be applied to a diverse range of professions, including, but not limited to: nurses, teachers, counselors, physical therapists, and sociologists.
AAT has been proven effective in many different applications. It offers a positive behavioral support intervention for young people with severe emotional or behavioral problems. The use of animals in therapy can teach trust, patience, empathy and many other emotional characteristics, Johnson explains.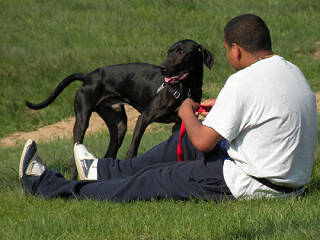 Berry Treadwell, Coordinator for the Teacher's Pet program (which is run by Amy Johnson) at the Macomb County Juvenile Justice Center commented, "One of my favorite things about the program is the almost instant connections our residents make with their animals. It does not seem to matter what the history of the resident or their behavioral issues, every youth that has gone through the program has been better for it. The increases in empathy and self esteem are at times remarkable. Amy Johnson seems to have struck the perfect balance of training and therapy that produces significant positive changes in the youth who participate in the program. I have no doubt that her research and design are the primary reasons for the ongoing success of the Teacher's Pet program as evidenced by the gains seen in multiple locations (Macomb, Oakland, Crossroads etc..). Everything that's done in the program is backed up by research."
In addition this alternative and innovative health care approach can improve mobility, social communication skills, and so much more for the critically ill, elderly, and physically impaired among others. The power of animal assisted therapy has recently been found to assist Veterans with emotional and physical support.
Oakland's Animal Assisted Therapy Certificate program is beneficial to both those receiving the therapy and those learning how to implement it. Others who can benefit from the program include: Volunteers, entrepreneurs, non-profits and clinicians.
The continuous success stories from students who've completed the certificate program are quite remarkable. From fundraisers to student recognition by the American Counseling Association, students from the AAT Certificate Program are doing truly great things.
Johnson would like Oakland University to become the premier institute for AAT training and research expertise. She plans to move for the program to become offered as a degree in addition to the certificate, and envisions reaching out to more students from all around the world and applying the study to more practices. Through this she sees the opportunity for more research and publication.
Students and affiliates of the program are leaving a positive paw print all over the globe. Sign up for the AAT Certificate Program and join them in a rewarding opportunity where you can make a difference in the lives of others. Registration for the program is now open, and classes start in September. For more information on the program contact:
Amy Johnson, Administrative Project Coordinator
Phone: (248) 370-4065
Email:
johnson2@oakland.edu
You may also view the AAT Certificate page at:
http://www.oakland.edu/pace/SON
Students are using their passion for animals and an understanding of the human animal bond and animal assisted therapy to help out communities around the globe.

Created by Eric Franchy (ebfranch@oakland.edu) on Monday, July 25, 2011
Modified by Eric Franchy (ebfranch@oakland.edu) on Monday, August 29, 2011
Article Start Date: Monday, August 15, 2011