The Pawley Lean Institute concluded its Summer Lean Series Tuesday, August 2 with How to Diversify Using Lean.
This session, the final in this three-course program, was led by PMC consultants and Lean experts Janie Farner and Ravi Lote. Participants were given an introductory explanation on why companies should diversify and partook in an interactive discussion on how to use Lean in this process.
The class was set up as a two-part lesson: Lote introduced the topic of diversification, illustrating examples of companies that have successfully diversified in business today; Farner then discussed the steps and processes to be implemented to make companies ready for diversification.
The Summer Lean Series was a new program presented by the Pawley Lean Institute and hosted at the Macomb-OU INCubator in Sterling Heights.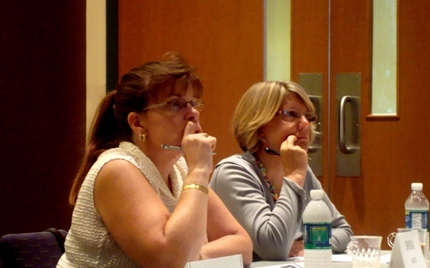 Participants at How to Diversify Using Lean
Along with How to Diversify Using Lean, the series consisted of Lean 101, with Debra Setman, founder and lead adviser of consulting firm Arbed Solutions, and Value Stream Mapping with Lester Sutherland, a Lean six sigma coach in the Operations Department at the U.S. Department of Housing and Urban Development, and Howard Weston, managing director at consulting firm KWA North.
In Lean 101, Lean culture, the history of Lean and some basic tools of Lean were all discussed. Attendees engaged in a hands-on simulation to reinforce the concepts from the lecture.
Value Stream Mapping defined this useful Lean tool, while participants practiced drawing their own value stream map.
Both sessions brought participants together to discuss and look for ways to improve their current workplace through Lean.
The program enrolled participants from varied backgrounds, including health care, manufacturing and service industries.
Their knowledge and previous experience with Lean was even more diverse – some knew nothing of the philosophy, while others used it as a refresher course, supplementing what they already knew about Lean.
Regardless of their backgrounds, participants gave the Summer Lean Series and the instructors a warm reception, with all the participants supporting the continuation of this program and others like it.
"The enthusiasm exhibited by the instructors mandates that students are engaged in the course," said Meriel Parker, vice president for Silver Stallion Development Corporation.
Through the Summer Lean Series, participants were given a unique opportunity to learn some of the basic concepts of the Lean philosophy from industry experts in an interactive atmosphere. It is one of the many training opportunities offered by the Pawley Lean Institute. For more information, visit oakland.edu/lean.
The Pawley Lean Institute concluded its Summer Lean Series Tuesday, August 2 with How to Diversify Using Lean. This session, the final in this three-course program, was led by PMC consultants and lean experts Janie Farner and Ravi Lote. Participants were given an introductory explanation on why companies should diversify and partook in an interactive discussion on how to use lean in this process.

Created by Rachel Zynel (rezynel@oakland.edu) on Thursday, August 4, 2011
Modified by Rachel Zynel (rezynel@oakland.edu) on Monday, January 23, 2012
Article Start Date: Thursday, August 4, 2011