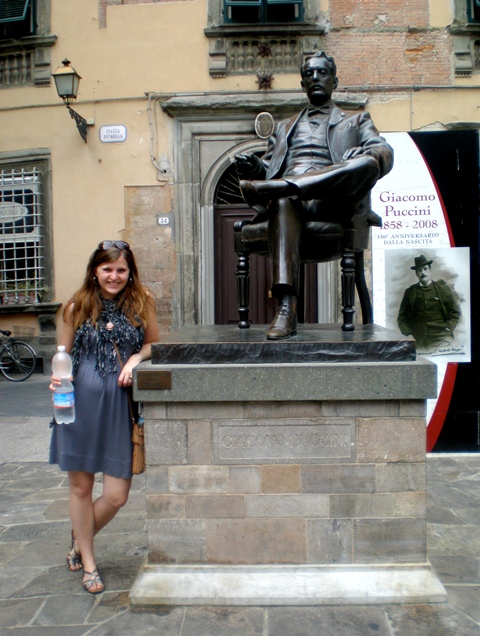 One of the 2011 Hollingsworth scholars has made an especially smashing success of her opportunity to study in Europe. Soprano
Suzanne Grogan
was given the scholarship to attend the Bel Canto Institute in Florence, Italy for four weeks and at the end of her time there she won both the Performance Award and the Orchestral Performance Award.
Both awards are judged on a combination of performance potential, musicianship, expressiveness in the Italian language, and growth during the program. Suzanne's prizes are a recital in New York City proceeded by a month of coaching, and two performances with the Vermont Philharmonic in October.
Participants in the Bel Canto Institute's summer program immerse themselves in Italian culture and language. They enjoy voice lessons, coaching, and performance classes concentrating on the style and traditions of the operas and songs of Bellini, Donizetti, Rossini, Verdi, and Puccini.
Suzanne says, "The Bel Canto Institute summer program was one of the most eye-opening experiences I've ever had. I learned so much and in such a small amount of time, and I can't thank . . . the Stanley Hollingsworth Fund enough for giving me the opportunity. Winning both the . . . awards is truly an honor, and I thank the faculty at OU and the Bel Canto Institute for giving me the education needed to succeed."
Edith Diggory
, Suzanne's voice teacher, says, ""Suzanne is the type of student who succeeds. Her work ethic, her desire to learn, her diligent application of what she learns, along with her kindness and modesty will stand her in good stead in the professional world."
Suzanne will be a senior in this fall.
Read more about the Bel Canto Institute here
.
Suzanne was not the only MTD student traveling overseas this summer.
Abigail Alexander, Lauren Wainwright, Allison Kochanski
and
Lauren Knox
all enrolled in Classical Theatre Study in Greece (THA 482) and journeyed to the island of Hydra in Greece. There they worked on Euripides' Medea, in an original adaptation by OU theatre professor
Karen Sheridan
, who also directed. They performed on Hydra and in the amphitheatre on the island of Spetses, and then toured the ancient theatres of Argos and Epidaurus and the ancient sites of Mycenae, Corinth, Delphi, and the Acropolis.
The production featured the work of Oakland student designers
Rachel Buechele, Justin Colby
, and
Andrew Wilhelm
. And students enrolled in Directed Study Abroad in Studio Art (SA 396) also made the trip, which will be offered again next year.
While some of MTD's students were stretching their wings this summer, some pre-college students had their horizons expanded at MTD workshops. The two-week long Great Lakes Dance Festival was a success once again, invigorated by guest teachers
Jay Kim
and
Matthew Farmer
.
And two completely new workshops (Intensive Musicianship and Composition and Creative Computer Music Composition) drew some gifted and serious young musicians to the department for the first time. After the first of these classes,
April Cook
, mother of one of the participants, wrote, "I hope your department will continue to offer camps and classes like these composition classes. Maurielle's current piano teacher said it has strengthened and enhanced the theory she and Mauri have worked on. Fabulous..."
Our Music Prep Division has continued to offer classes throughout the summer and this month the students will reach out to share the joy of music with the community. The students will return to Waltonwood on Main, a retirement facility in Rochester, for the fourth consecutive year. Prep Division Director
Bibianne Yu
says, "This year, we will have more than 40 performers, with piano and violin soloists, as well as Elementary Voice Class students and young Piano Readiness students."
"Our residents enjoy many types of music, but especially when performed by talented young people," says
Sue Pierce
, Activity Director at Waltonwood. "We are thrilled to have the music preparatory students back again." And the students always make a point of showing their appreciation for the audience; they will hand out flowers to the residents at the conclusion of their recital.
We also have some alumni news. One of our 1997 graduates,
Brian Dambacher
, will take up the post of Assistant Professor of Technical Direction and Show Control at MSU this month. Brian recently completed his MFA at the Yale School of Drama, after serving as Technical Director / Production Manager at Meadow Brook Theatre for five years and as OU Adjunct Faculty for three years. He taught stagecraft and was the University's Technical Director, technical liaison with Meadow Brook Theatre, and the safety coordinator for the department.
Although we see much less of them than we do during the semester, we know our faculty are also busy. World Music Special Instructor
Mark Stone
recently performed with his percussion group Biakuy in Plymouth.
Read a review here
.
And Special Lecturer in Acting
Thomas Mahard
is currently on stage at Williamston Theatre, in the world premiere of
And the Creek Don't Rise
by Michigan writer Joseph Zettelmaier. The play runs until August 14.
Read more details here
.
And here is the review.
Photo: Suzanne Grogan in Lucca, Italy