Monday, July 18, 2011
OU students take top two places in 2011 Romeo Peach Queen pageant
By Eric Reikowski, media relations assistant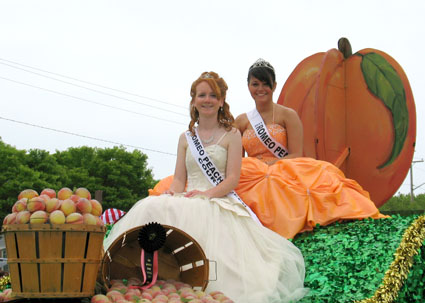 OU students Emily Eimonetti and Lisa Polley earned the top two spots in the 2011 Michigan Peach Festival of Romeo's Peach Queen pageant.
A pair of Oakland University students vied for the title of Peach Queen for the 2011 Michigan Peach Festival of Romeo. Emily Simonetti and Lisa Polley captured the top two spots in this year's pageant, held this spring.
A Washington Township native, Simonetti beat out 10 contestants for the crown.
"I have worked in Romeo since I was 13, so I was always close to the festival," Simonetti explained. "I always wondered what it would be like to be the Peach Queen. I always looked up to her and dreamed of becoming her – and dreams do come true."
Both women are active in their community and driven by a passion to help others. Simonetti plans to transfer to Rochester College to pursue a ministry degree in hopes of becoming a youth or children's pastor. She recently returned from a mission trip to Thailand, where she taught English and worked with ministries performing outreach to women in red light districts. She also participates in A Beautiful Me, a non-profit mentoring organization that helps young girls build self-esteem.
A 2009 graduate of Romeo High School, Polley is a nursing student at OU and serves as a class representative to the Student Nurses Association. She is a member of the Alpha Lambda Delta honor society and OU School of Nursing Dean's Circle, as well as a recipient of the Board of Visitors Nightingale Scholarship and Tekla Strom Ylvisaker Scholarship.
She works at Royal Oak Beaumont Hospital as a nurse technician and also enjoys leisure activities such as playing the piano, gardening, raising quail, camping and spending time with family and friends.
"I plan to graduate nursing school in spring of 2013 and hopefully receive a job at a local hospital where I can work as an RN. In the future, I may even go back for nurse practitioner school," Polley said.
Among other engagements, Simonetti and Polley have participated in holiday parades in Sterling Heights, St. Clair Shores and Algonac. They also will grace the 80th annual Michigan Peach Festival, set for Sept. 1-5, in downtown Romeo.
A pair of Oakland University students vied for the title of Peach Queen for the 2011 Michigan Peach Festival of Romeo pageant, held this spring.

Created by Katherine Land - Deleted (land@oakland.edu) on Monday, July 18, 2011
Modified by David Groves (groves@oakland.edu) on Wednesday, July 20, 2011
Article Start Date: Monday, July 18, 2011