Friday, July 8, 2011
OU-Macomb shines at 2011 Stars and Stripes Festival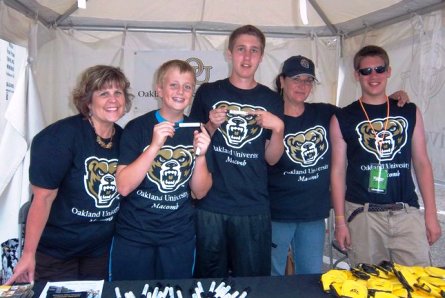 OU-Macomb maintained a fun presence at the 2011 Stars and Stripes Festival.
An estimated 500,000 people flocked to downtown Mount Clemens for the 2011 Stars and Stripes Festival July 1-4. The patriotic, fun-filled weekend featured more than 100 free concert performances and was headlined by nationally known music acts, including Smash Mouth, Tonic and Rick Springfield.
Amid all the sights and sounds, the event also provided a chance to learn more about OU-Macomb and the newly established Anton/Frankel Center (AFC). Located at 20 South Main Street in downtown Mount Clemens, the center was donated to the university by prominent investors and developers Gebran Anton and Stuart Frankel.
"The event was great exposure for OU-Macomb and the AFC," said Julie M. Trube, OU-Macomb regional director of Outreach/Enrollment. "There were eight OU-Macomb banners hung up around the perimeter of the festival, as well as a 30-second OU video that ran with the other sponsor videos on a continuous loop on the main stage's jumbotron."
"We talked to current students, alumni and prospective students and were welcomed to the community by several business owners and residents," she added. To help visitors beat the heat, Trube and others distributed 1,000 OU fans.
The AFC will provide classrooms, along with offices for advising, student services, faculty and staff. More than 30 courses will be offered at the center this fall, expanding OU's academic and student support programs and increasing the number of degree programs that can be completed in Macomb County.
To learn more about OU-Macomb, view the website at
oakland.edu/macomb
.
The 2011 Stars and Stripes Festival provided a chance to learn more about OU-Macomb and the newly established Anton/Frankel Center this July.

Created by Katherine Land - Deleted (land@oakland.edu) on Friday, July 8, 2011
Modified by Katherine Land - Deleted (land@oakland.edu) on Friday, July 8, 2011
Article Start Date: Friday, July 8, 2011