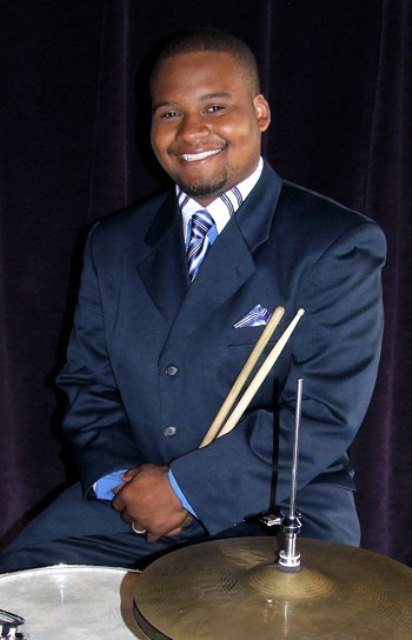 We miss you here in Varner 207. It's very quiet. Too quiet! We are hard at work, with our eyes focused unblinkingly on our computers and the next academic year, and so we are always delighted to be diverted by news of your exploits. And now, in no particular order, we're passing that news along . . .
Special instructor
Mark Stone
, who heads up World Music for MTD, is delighted with the response received by the Bernard Woma Ensemble at a recent concert in Troy, NY, where Bernard, Mark, and David Rogers played with Dogs of Desire, a group of musicians from the Albany Symphony. The Ensemble's world premiere performance of "Gyil Yeru Concerto," was called "the tour-de-force of the evening."
Read more here
. The concerto, which was co-written by
Bernard Woma
, Mark Stone, and David Rogers, will have its Michigan premiere on February 19, 2012 when the Ensemble will play with the Warren Symphony whose musical director is MTD's own
Greg Cunningham
. And there is another departmental connection;
Kofi Ameyaw
, who also plays with the Ensemble, is now an adjunct faculty member, teaching African Ensemble. And of course, Bernard Woma was the featured artist at the last OU World Percussion Day. The Ensemble recently signed with Sciolino Artist Management - a Manhattan-based artist management firm representing a select group of musicians.
Read more information here
.
On June 14, the summer 1 World Music class just ending gave an outdoor concert at the OC featuring the Embaire, a type of Ugandan xylophone, and the steel drums. It was very warmly received by the lunchtime crowd, as was the announcement that one of MTD's undergraduate percussion majors,
Stephanie Perlaki,
is one of only 50 college percussionists accepted into the Marimba Orchestra for the 50th anniversary of the Percussive Arts Society International Convention. The Bernard Woma Ensemble has also been asked to perform at convention.
Professor
Greg Patterson
forwarded news about
Lily Sloan
who graduated with a BA in Dance in 2004. In 2010 Lily completed an MFA in Dance at Texas Woman's University (TWU) and she currently teaches at North Central Texas College and University of North Texas. Lily is also very active in performance and choreography, and last summer she literally stole the headline of a review that appeared in the
Dallas Morning New
s: "Dance: Lily Sloan leads impressive program at TWU fundraiser 'Dancing to Restore the Gulf.'" About her work today Lily says, "The biggest project I am doing right now is getting Big Rig Dance Collective up and running to its fullest potential."
Read more about Big Rig
. Lily says she, "strives to continue exploring, performing, and creating innovative performances, combining her interests in alternative venues, multimedia, and improvisation."
See more of her work here
. For alumni in Texas: In July Lily will attend a Movement Fundamentals Coalescence at Luther College; in October she will perform with Lower Left in Houston; in December, she will produce a dance concert at The Black Box Theatre in Denton, TX.
Meanwhile, Professor
Ali Woerner
recently had some of her MTD students dancing in the street.
Lindsay Carles
s,
Rachel Davies
,
Jessica Hublick
,
Amber Klaus,
Kristen Manor
,
Katie Maviglia
,
Taylor Thompson,
and
AJ Sharp
, all in OU's dance program, performed
ManSchlüssel
, (Key Man in German), a work combining dance with not only music, but also sculpture and poetry. The elements came together in downtown Port Huron. The structured improvisation was choreographed by Ali, director of the Oakland Dance Theatre. Sean Galvin read his own poetry and the sculptor was John Sauve, who also filmed the performance.
See it here
. And
read a review
by
Jessica Hubblick
who is also an MTD dance major.
Many theatre students are especially busy this year, appearing in summer stock throughout the country. Professor Fred Love forwarded a link to a review in
Encore Michigan
for a performance at the Barn Theatre in Augusta, Michigan, which featured MTD students
Natalie Sparbeck
,
David Vogel,
and
Elyse Moon
.
See it here.
Performances at Varner are far fewer than in during the academic year, but an appreciative audience recently enjoyed a preview performance of Eisenhower Dance Ensemble's New York gig. Along with it came the excited news that
Maddie Metzger
,
Jasmine Page Cox,
and
Justine Gagne
, senior dance majors, are all newly hired EDE apprentices.
Kristen Manor
, a recently graduated dance major, was also offered an EDE apprenticeship. And three dance students,
Olivia Loga
,
Francesa Garippa
, and
Alexandra Plaskey
, have been offered EDE arts administrative internships. Congratulations to all.
Congratulations also to
Sean Dobbins,
Special Lecturer in Jazz Percussion and Jazz Combos, who recently returned from Turin, Italy, where he played with the Orchestra Filarmonica di Torino as an official representative of Detroit. Turin and Detroit are twin cities. Who knew? Fiat is headquartered in Turin, which is known as the automobile capital of Italy. The May 9 concert was part of the Detroit Torino Urban Jazz Festival, and featured the premiere of two pieces. Also playing were Emanuele Cisi, Chris Collins, and Furio Di Castri.
Read more here.
And following up in last month's alumnae news:
Leslie Littell
forwarded an online review of
Anetria Cole
's new play,
Bronzeville Gold.
The headline read, "Bronzeville Gold is superb!" That's exactly what we like to hear!
And we have some glorious personal news. The much anticipated Woerner twins made their debut on Friday, June 10 at 6:27pm and 6:41pm.
Layla Elizabeth
was 4 lbs 14 ounces, and her younger brother
Maxwell Michael
was 5 lbs 1 ounce. Ali and her husband Mike are "over the moon in love with the two new additions." Ali says, "We are in (sleepless) heaven and loving every moment!"
Finally we have a challenge for you. Muriel is convinced that she saw theatre alum and 1997 Irene Ryan Acting Scholarship winner
Esau Pritchett
on the soap opera
One Life to Live
recently. We have not been able to confirm this sighting. Can you help? Do any of you care to confess to being a daytime television
aficionado
?
Photo: Sean Dobbins