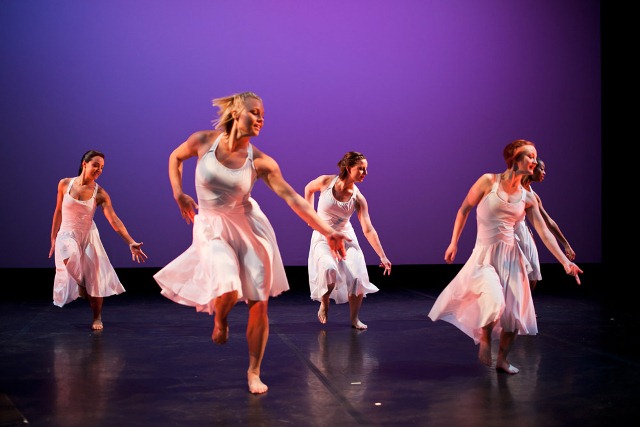 Can we surprise you? Let's see!
1. You don't have to be enrolled in an MTD degree program to get in on the act.
While it's true that most of MTD's 150 plus performances a year showcase the achievements of students majoring in music, theatre or dance, many ensembles are open to any OU student through an audition process. All theatre performances are cast through open audition. And according to Mike Mitchell, music program director, every music ensemble is open to any student. Wind Symphony, Symphonic Band, Oakland Symphony Orchestra, the Golden Grizzly Athletic Band, and Oakland Chorale all require an audition but University Chorus does not. Anyone who loves to sing is welcome. If jazz or world music is your thing, the OU Jazz Band, the OU Jazz Combos, and the Jazz Singers are open to all students through audition, while for the African Ensemble and the Steel Band no audition is required. And any student can audition for Oakland Dance Theatre. This year's ODT audition date is September 7 at 5:30 pm in Varner 132. Come and show us what you can do!
2. You don't have to forget about your love of music just because you want to be a doctor.
MTD offers minors in Jazz, World Music, Theatre, and Dance, as well as a teaching minor in Dance. There is also an Auditioned Minor in Music which consists of classes designed for music majors, and a Liberal Arts Minor in Music, which does not require an audition and consists of music classes open to non-majors. These programs can be combined with any other degree and offer students an opportunity to keep a special kind of balance in their life, both while at college and later in their career. And many employers recognize that musicians are self-motivated, self-disciplined and at ease with complex thought patterns. The minors can also be successfully combined with other OU programs to fulfill the requirements of OU's Integrative Studies degree, the BIS, which, with an advisor's help, allows students to custom design their own combinations of study disciplines.
Read more about that here.
And read an article in the
Wall Street Journal
about
individualized degree programs here
.
3. MTD has one of the largest Music Education doctoral programs in the country.
MTD has an enormously vibrant Music Ed doctoral program. In fall 2011 there will be sixteen students working towards their Ph.D. Asked for some examples of current research, Professor Jackie Wiggins, coordinator of the program, wrote, "Students are studying the nature of music learning and teaching in an online classroom, in an inner city setting, in an early childhood setting, as influenced and informed by students' musical lives outside of school, when middle school students compose in a band classroom, and when students engage in improvisation. One is studying the nature of the experience of students considered 'at-risk' in an extra-curricular drumming ensemble." Many of the doctoral students are K-12 music teachers who plan to move into higher education. A few are performers who also teach in a variety of settings. One student, Phyllis White, is a composer. Phyllis has more than one hundred titles in print and one million copies sold around the world, after a three-decade career with The Lorenz Corporation. She is "black and gold through and through" with a BM and a MM from OU already. She is also a Special Lecturer in Music at OU, specializing in teaching music to non-majors. Phyllis says, "Jackie Wiggins was my mentor during my Master's in Music Education. She's one of the most respected constructivist music educators in the world. Point blank, she is the reason I entered the doctoral program." Phyllis has developed and launched two new online general education courses for MTD, and she says, "The intersection of online learning and musical understanding is a new frontier in music ed research . . . [and MTD's ] openness to innovative arts based scholarship, rigorous standards for qualitative research, and challenging but supportive personal attention each step of the way creates a unique and attractive environment for pioneers in the field of music education." Phyllis believes the size of the Ph.D. program is part of what makes it so appealing. "We span the diversity scale in musical specialty, each bringing a unique thread to the musical tapestry of shared experience that makes this learning opportunity so rich."
4. Many of MTD's faculty are also busy performance professionals.
We don't want to give you a list with names – imagine if we were to miss someone – but MTD has a number of faculty members who are in-demand performers. Over the past year alone, MTD faculty have performed at venues in Michigan and across the country, including New York and Los Angeles, and in Europe and Africa. They are performing artists of the very highest caliber, which allows them to offer their students, many of whom aspire to perform professionally, a perspective based on experience and the reality of the arts "business." Keep watching our
homepage newsfeed
to see links to reviews and other articles about our performing faculty, students and alumnae. You'll also see updates on our Facebook fan page, which you can "like" by clicking on the link on our homepage or to the right of our e-newsletter, or by
following this link
. Stay up-to-date with the accomplishments of old friends and colleagues! And send us your news!
5. Our faculty have many other talents too!
We could put a lot of Did You Know? stuff into this category, but just for an example, we want to share that play writing instructor Kitty Dubin was once a Jeopardy champion! Kitty tells the story herself: "Yes, I was a Jeopardy champion, but I'm afraid it was only for one day. I was 22 years old at the time and Art Fleming was the host, not Alex Trebek. I was the lowest of the three contestants going into "final Jeopardy" but fortunately for me, the category was "Novels." The answer was: "Georgia site of MacKinlay Kantor's 1956 novel." I was the only contestant who knew the question: "What is Andersonvile?" Luckily, I had wagered everything and came back the next day (really later in the afternoon) but I lost. All in all, it was a fun experience!" Bet you didn't know that! But Outreach Coordinator Deneen Stapleton did. Thanks for the tip Deneen.
Photo: Oakland Dance Theatre dancers, courtesy of Scott Lipiec