Wednesday, June 22, 2011
Environmental work a passion for OU senior Alex Kozlowski
By Dan Bodene, contributing writer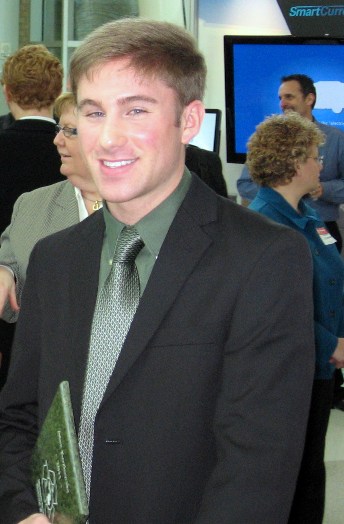 Alex Kozlowski was honored as a 2011 Michigan Green Leader for his environmental projects.
Alex Kozlowski hates waste.
The Oakland University environmental science major uses that as a foundation for a lot of his studies and work, and it led to his recent selection as one of the Detroit Free Press' Michigan Green Leaders for 2011.
Kozlowski received the honor for a project he began at the movie theater where he works. Bottles, cans and even paper products now are recycled instead of going into the trash. Kozlowski redeems the bottles and cans and donates the money to the Drug Abuse Resistance Education (D.A.R.E.) program and Forgotten Harvest – $600 to each charity so far.
Getting more value from what many consider to be throwaway items is an interest Kozlowski has had since childhood.
"I would trace my interest back to the way I was raised as well as travels around the country that introduced me to many beautiful, natural places," he said. "These things, combined with a gut feeling that excessive waste is wrong, made me realize that the world is a fragile place whose valuable natural resources need to be conserved and protected."
Kozlowski's environmental science studies at OU – he will graduate in December 2011 – are building on his interests.
"The program at OU concentrates on the sources and causes of pollution as well as methods that can be applied to prevent its occurrence or mitigate its harm," Kozlowski said. "We also learn many things about the natural world and legislation that has been enacted to protect it."
Further "walking the talk," Kozlowski has participated in several cleanup activities around Oakland, including picking up trash on a stretch of University Drive and along a portion of the Clinton River watershed. It's amazing what some people throw away, Kozlowski said.
"The weirdest thing I've ever had to pick up was a small statue of Ganesha, a Hindu deity," he said. "I found it lying underwater while doing a cleanup of a stretch of the Clinton River near OU." Ganesha is widely revered as the "Remover of Obstacles."
And this summer, Kozlowski is working on an internship with the Michigan Department of Environmental Quality.
"The project I'm working on is a byproduct synergy initiative," he said. "This involves working with various businesses in southeast Michigan and determining where one business's waste or byproduct can be used by another as an input for their process. Doing this creates new revenues or savings for those involved while simultaneously addressing environmental and social impacts."
Alex Kozlowski hates waste. And if he has his way, there will be a lot less of it in the world.
For more information about programs and events through Oakland's environmental science program,
view the website
.
OU environmental science major Alex Kozlowski was recently selected as one of the Detroit Free Press' Michigan Green Leaders for 2011.

Created by Katherine Land - Deleted (land@oakland.edu) on Wednesday, June 22, 2011
Modified by Katherine Land - Deleted (land@oakland.edu) on Wednesday, June 22, 2011
Article Start Date: Wednesday, June 22, 2011