By Dan Bodene, contributing writer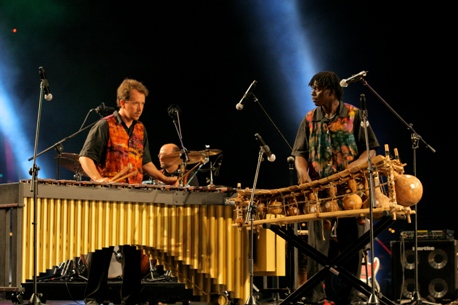 OU's Mark Stone and Kofi Ameyaw perform using traditional African instruments.
If not for a marimba, Oakland University's World Music program might not be where it is today.
But Mark Stone, a special instructor in OU's Department of Music, Theatre and Dance, helped see to it that OU's World Music program has thrived. A marimba is where it started.
Growing up in Waterford, Stone's neighbor played one. The marimba, like a xylophone, is a musical instrument with keys or bars struck by mallets to produce tones. By age 6, Stone was learning how to play from his neighbor, which ignited an interest in percussion instruments that continues today.
In fact, Stone holds degrees in percussion performance from the University of Michigan and West Virginia University. While at U-M working on his bachelor's degree, Stone went to the University of Ghana in 1992 on a year-long study abroad program. There, he studied under Bernard Woma, one of Ghana's foremost percussion virtuosos.
"We just really connected," Stone said. Stone is still a member of the Bernard Woma Ensemble, which has performed throughout Africa and America. The ensemble also includes Kofi Ameyaw, an adjunct professor at OU who teaches the African Ensemble.
The Bernard Woma Ensemble uses two main instruments. One is the gyil, a traditional African forerunner of the marimba that has tuned wooden keys suspended by a wooden frame over gourd resonators. Holes strategically cut in the gourds are covered by spider egg-sac casings, which create a buzzing sound. The other instrument is the kuor, a drum consisting of a lizard skin stretched over a large gourd.
Recently, the ensemble performed the world premiere of a new composition that Stone co-wrote in a concert with the Albany (N.Y.) Symphony, which was reviewed by the local Times Union as "the tour-de-force of the evening." The full review is
available at the Times website
.
This concerto will have its Michigan premiere beginning at 3 p.m. on Sunday, Feb. 19, 2012 with the Warren Symphony, conducted by Greg Cunningham, an associate professor of music, director of orchestral studies and director of bands at Oakland. Woma and Stone will play the gyil, while Ameyaw will play a kuor. The concert will be at the Macomb Center for the Performing Arts.
Stone's proficiency with the marimba, gyil and kuor are only a part of his percussion repertoire.
Stone returned to Africa in 1996 as a Rotary Ambassadorial Scholar to study the musical traditions of Uganda. His interests in percussion continued to broaden.
As a master's student at West Virginia University's World Music Center, he studied under Ellie Mannette, an artist-in-residence known as "the father of the modern steel drum instrument." It sparked another percussive interest in Stone.
After coming to Oakland in 1998, Stone formed a steel band, the Oakland University Pan-Jumbies, which he later brought to Trinidad to perform in the World Steelband Music Festival. And, during a research trip to Trinidad in 2001, Stone joined a local Trinidadian ensemble and performed as part of Trinidad's annual Carnival.
To a great degree, OU is where his interests have come together.
Shortly after arriving, Stone was asked to lead Oakland's World Music program, which had been started by pioneering jazz professor Marvin "Doc" Holliday. In the years since, the program has grown in stature.
"OU is now in the forefront of World Music education," Stone said. "In fact, we started a World Music minor this past year." Stone also is offering a study-abroad program to Ghana next summer for Oakland students, similar to the one he participated in through U-M.
Besides coordinating OU's World Music and percussion programs and directing the African Ensemble, World Percussion Ensemble and Steel Band, Stone teaches classes in ethnomusicology and international studies.
He's a founding member and performs regularly with the New York-based jazz ensemble Imaginary Homeland, and directs the Michigan-based Biakuye percussion group. He's also a member of Oakland's Faculty Jazz Quartet, and still performs several times a year with the Bernard Woma Ensemble.
With three colleagues, Stone started a record label. Jumbie Records promotes recordings by nine groups of artists from the United States, Ghana, Guinea and Hungary. For more information on Jumbie,
visit the website
.
If it sounds like Stone is busy, he is. ""I live and breathe this music," he said. "But next month, I'll try and catch my breath."
For more information about programs in Oakland's Department of Music, Theatre and Dance,
view the website
.
Mark Stone, a special instructor in the Department of Music, Theatre and Dance, has helped see that OU's World Music program has thrived.

Created by Katherine Land - Deleted (land@oakland.edu) on Thursday, June 16, 2011
Modified by Katherine Land - Deleted (land@oakland.edu) on Thursday, June 16, 2011
Article Start Date: Thursday, June 16, 2011