Tuesday, May 24, 2011
Extraordinary benefactress honored for a lifetime of civic engagement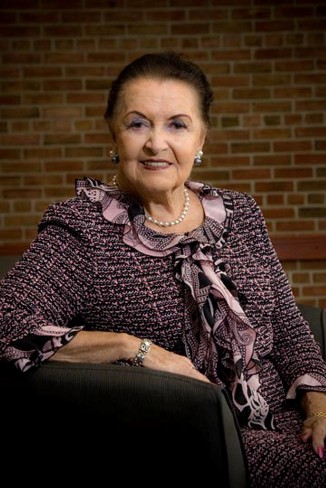 Maggie Allesee recently received an honorary degree from OU for her philanthropic work.
Oakland University recently bestowed an honorary degree upon longtime philanthropist, volunteer and community activist Maggie Allesee. The distinguished honor recognizes several decades of selfless commitment, compassion and hard work to improve the lives of others.
"I cannot imagine anyone more devoted to the success and advancement of southeastern Michigan," said Oakland University President Gary Russi. "Mrs. Allesee has shown an extraordinary level of generosity and compassion over the years, and offering an honorary degree for the incomparable work she has done is just one way we can express the immense admiration and gratitude we have for her."
Now 82 years old, Allesee has embraced a lifetime of community service. She has earned the Michigan Humanitarian of the Year award, Project Hope Lifetime Achievement Award, American Lung Association Women's Committee Volunteer Award, HAVEN's Commitment to Mission award and the United Way Heart of Gold.
Even now she continues to be active as an honorary director of the DIA and as a board member of the Community Foundation for Southeast Michigan, the Michigan Opera Theatre, the Hospice of Michigan Foundation, the Wayne State University Foundation, the Cranbrook Academy of Art and Art Museum, and numerous other organizations.
At Oakland, Allesee serves on the Board of Visitors for the School of Nursing – where she has established an endowed chair in geriatrics and rehabilitation nursing – as well as on the Board of Visitors for the Eisenhower Dance Ensemble in the Department of Music, Theatre & Dance. She and her husband have supported the summer dance program, as well as the OU Dance Theatre and the OU Repertory Dance student concerts.
The dedicated benefactor also has served as director of the OU Foundation, a board member for Meadow Brook Theatre, a member of the Meadow Brook Hall Walk Committee, a planner of the Meadow Brook Hall Mode Du Concours Fashion Show Luncheon and a member of President's Campaign Council.
In the realm of philanthropy Allesee has donated more than $15 million to various community organizations and causes. She sings at local nursing homes with the Junior League of Birmingham, and has walked as a member of the Distinguished Clown Corps in America's Thanksgiving Day Parade in Detroit for the past 21 years. She also works with Henry Ford Hospice's Sand Castles, an organization that helps children who have lost a sibling or parent.
"Whether it is through her philanthropic support for the arts, healthcare and education; her volunteer service; or simply lending her name to promote a cause; she is a constant reminder of the values of integrity, social responsibility and perseverance," said Sue Davies, OU's vice president for university relations.
Allesee received her honorary degree as part of Oakland University's spring commencement ceremonies.
Oakland University recently bestowed an honorary degree upon longtime philanthropist, volunteer and community activist Maggie Allesee.

Created by Katherine Land - Deleted (land@oakland.edu) on Tuesday, May 24, 2011
Modified by Katherine Land - Deleted (land@oakland.edu) on Tuesday, May 24, 2011
Article Start Date: Tuesday, May 24, 2011