By Gillian Ellis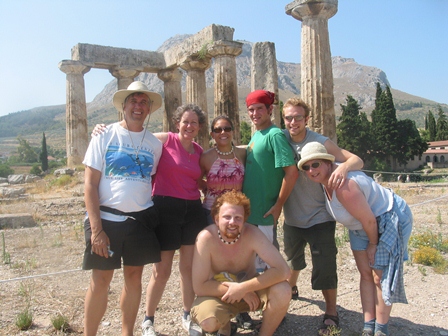 Moonlight over the Acropolis? The heat and haze of New York? The sparkly bright sunshine of Disney's perfect world? The air-conditioned chill and camaraderie of a travel bus? What is the backdrop to your summer?
A number of MTD students and recent graduates have some wonderful professional opportunities this summer that promise to be amazing adventures. Among them are the five music students featured in April's e-newsletter who will study in Europe this year thanks to the Hollingsworth Awards.
Eighteen dance majors have also received awards that will enable them to travel and grow. These recipients of the Maggie Allesee Summer Study Scholarships will venture to locales from Manhattan to Ghana.
AJ Sharp will spend three weeks at The College of Brockport in New York for the Doug Varone and Dancers Summer Workshop. Doug Varone is an esteemed choreographer. AJ says, "I am really looking forward to meeting new people and taking classes from different teachers. I think one of the most important things about adventuring out . . . to a workshop or intensive [is] the connections you make. I am also really excited about taking a choreography class with Doug Varone himself for the entire three weeks. To work with the choreographer/director of a company is a huge deal and would be such an amazing opportunity. I am hoping to leave this workshop as a new and different dancer. It is always exciting to come back from a life changing workshop/intensive and be able to show your classmates and professors how hard you worked . . .and how dedicated you are towards what you are meant to do in life."
Kaitlyn Maviglia and Lindsay Carless will also both be in New York, for the Rockette Summer Intensive at the world-famous Radio City Music Hall. They will spend a week training with the directors of the Radio City Christmas Spectacular and will experience the Rockettes' distinctive style, which incorporates a whole range of dance disciplines, including, of course, the legendary Kick Line. The culmination of the program is a student showcase in a New York City theater.
Meanwhile, Kayt MacMaster is looking forward to a completely different experience. She will study with a program called African Culture Through the Arts and will travel to Ghana to learn about Ghanaian dance, music and culture.
Kryssy Becker is not going nearly so far, but all kinds of adventures are possible, even probable, since she'll be "friends with" some of everyone's favorite furry characters. Kryssy will participate in the Disney College Program [DCP] from June until January as a Character Performer. She'll stay in a College Program apartment complex with other DCP students and hopes to "make great friends and meet people from all over the world."
Kryssy sees DCP as a smart next move. "It's a foot-in-the-door for building up connections and experience with the Walt Disney Company, the biggest entertainment company in the world. I'll be getting a steady paycheck with designated housing …all while exercising the skills I've learned at Oakland. And on top of all that I get to make magic for people every day! Once the program is over, I plan on auditioning for their stage shows, as well as roles on their cruise lines. It's a wonderful way to get started in this business."
And she's looking forward to spending her downtime in the parks, "oh, and eating lots of pineapple whip ice cream."
That's probably not on the menu for theatre students Allison Kochinski, Lauren Knox, Abby Alexander, and Lauren Wainwright who will spend three and a half weeks in Greece this summer studying Classical Theatre, with classes in movement, acting and voice, Modern Greek language, and theatre history. They will also rehearse a Greek play while staying on the Aegean island of Hydra and then "take it on the road" to perform in outdoor amphitheaters.
As part of the program they will see a performance at the ancient theatre of Epidaurus, which is famous for its amazing acoustics, and tour archeological sites and museums. Allison says, "We are all very excited."
Also excited is Trevor Critchett who will travel far and wide across the US this summer playing tuba with the prestigious Cavalier Drum and Bugle Corps. Trevor, who has played tuba for nine years and is a member of OSO, Brass Band, Wind Symphony, Jazz Band, and Pep Band at OU, says the Cavaliers are "one of the top groups in the United States."
He auditioned last December and, along with 150 other students, he will start four weeks of training on May 20 and follow up with a tour covering 11,000 miles through eighteen states giving thirty-five performances, culminating in the DCI World Championships, held August 11-13 in Indianapolis at Lucas Oil Stadium, home of the Colts football team. Asked if the Cavaliers have a chance of taking the title this year, Trevor answered, "Absolutely!"
Once they are on the road, Trevor and his colleagues will spend their nights sleeping on the tour bus and on gym and auditorium floors. "No hotels," he says.
He expects to have an amazing experience but Trevor has no illusions about how exacting the summer will be. "It's going to be the hardest thing I've ever done, mentally and physically," he said. The organizers told him to get in training and lose weight in preparation for the tour and he has, twenty-five pounds so far. He expects to lose another fifteen to twenty pounds during the course of his adventure.
We can't help wondering how many miles Trevor will march during the course of all those rehearsals and performances. Whether you are traveling far or just staying contentedly at home in the coming months, we wish you a happy and adventurous summer.
Photograph: MTD friends adventure to Greece.