By Gillian Ellis, assistant publicist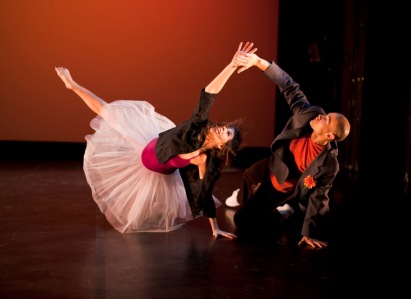 Here's this month's intelligence from Varner 207, the nexus of news.
Five MTD students have been awarded grants from the Hollingsworth Fund to pursue their studies in Europe this summer. Erik Dewar will travel to Dartington International Summer Program in Devon, England, where he says he "will participate in a variety of summer courses involving choir, chamber choir, [
and
] voice lessons. I am hoping that this trip will help improve, enrich, and inspire my musical career!"
Jane Hines will also attend the Dartington International Summer Camp. While there, Jane intends to take classes in piano, harpsichord, and fortepiano, as well as sing in the choir.
Suzanne Grogan will attend the Bel Canto Institute Summer Program in Florence, Italy. She says, "This opportunity is a chance of a lifetime, and I am beyond excited. This trip is vital to my career development as a vocalist. Singing in Italy is a dream come true, and I can't thank the music department here at Oakland University enough for their continuous support."
Laura Palmieri is attending the exclusive International Harp Master Academy in Bern, Switzerland. "Only about 19 harpists from all over the world get the incredible opportunity to be part of this program," she said. [
This
] is truly a musical dream come true for me and I know will be an unforgettable learning experience that I will forever cherish."
Kevin Naeve will travel to the Zoll Institute for Conductors Workshop in Bacau, Romania, where he will work with Maestro Robert Gutter.
The Hollingsworth Fund was established by Stanley Hollingsworth who taught composition and theory at OU from 1976-1993 and died in 2003. As a young man, Professor Hollingsworth was the recipient of several important awards, including a Guggenheim Fellowship, and he well understood how richly a wide range of experiences can inform a young musician's growth.
Two of MTD's Dance Faculty have won important grants. Ali Woerner received a $5,000 grant from OU's Research Department for
Happenings
, an event that offers an avenue for Detroit artists to display work, connect and collaborate, and help build a thriving united community. On August 6,
Happenings
will take place on the rooftop of the Music Hall for the Performing Arts in downtown Detroit. It is a free event for the public and includes music, dance, poetry, painting, functional art, and much more. Ali also received a $1,200 Faculty Research Grant to help support her professional contemporary modern dance company, Shifting Sol which performed at OU in February, after a New York City debut in June 2010. Thayer Jonutz also received a grant for performance.
Lecturer Kitty Dubin is delighted that she and five of her current and former student playwrights have had their one-act plays chosen for performance by the students of Daniel Dobrovich, Artistic & Technical Director of the Theatre Program at Seaholm High in Birmingham. The plays will be performed at Seaholm's One Act Play Festival this spring. Congratulations to Meredith Stevens (
Connected
), Tara Felock (
Metamorphosis
), Jeremy Bruce (
Settling Scores
), Elizabeth Frazier (
The End of the World
), Linda Curatolo (
The V Chip
) and Kitty Dubin (
The Prom Dress
).
The movie that Special Lecturer in Theatre Thomas Mahard filmed a couple of years ago,
Alleged
, will soon be shown at the Boston Film Festival and the Charleston (SC) International Film Festival. Tom plays Judge Raulston in the romantic drama, which is set against the background of the "Trial of the Century," the 1025 Scopes Trial. Brian Dennehy, Colm Meaney, and Fred Thompson also appear in the movie. See a trailer at
http://www.imdb.com/video/wab/vi4191525657/
Still at the movies: Theatre major Lauren Wainwright stopped by the office a few days ago to report on her first meeting with George Clooney. She told how the star explained that having grown up in the middle of the country (Kentucky and Ohio) he was committed to filming here and to encouraging local talent. Lauren has eight lines in the movie, all of them with George.
And finally, a personal note of happiness: on February 24, 2011, Greg Cunningham and Gaye Ann Hofer welcomed a beautiful baby daughter, Clara Ann.
In the photo: Ali Woerner and Thayer Jonutz in performance.