Thursday, March 31, 2011
Music Prep Division Continues to Expand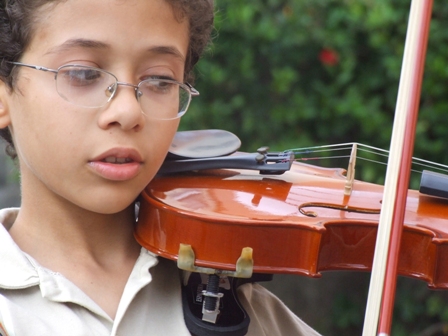 "People keep calling," says Bibianne Yu, director of the department's Music Prep Division, "and so the program continues to expand." And it continues to allow the department to make its commitment, expertise, and vibrant energy available to literally everyone who would like to explore the world of music. Because not only does Music Prep prepare serious young music students for their future college careers, it introduces young children to music, offers instrumental classes of all types to all ages, and in doing all this, facilitates a life-long love of music.
The division began in 2002 with forty students. Today, a thoughtfully designed mixture of group and private lessons enables more than 300 people, young and old, some beginners, some already skilled, to experience, play, and love music. The youngest participants are eighteen months old, while the most senior students are still enjoying lessons in their eighties. Private classes are available in virtually every instrument and at several locations throughout Oakland, Wayne, and Macomb Counties.
Small group classes are available for young children. These classes are rooted in a Teaching for Musical Understanding approach, which enables children to experience music in a learner-centered, peer-supported, collaborative environment.
Committed young musicians study theory with Music Prep instructor Jenine Brown who teaches area students from a variety of high schools on Tuesday evenings at OU. She also teaches many more through Music Prep's partnerships with Oakland Youth Orchestra (OYO) and the DSO's Civic Youth Ensembles (CYE). OYO is a parent-run non-profit organization with four orchestras. The CYE has eight ensembles, dedicated to orchestra, chamber, wind, and jazz performance. Jenine teaches their members every Saturday at the Pincus Music Education Center in Detroit.
The university's mission calls for responsive and effective public and community service which is exactly what Music Prep offers. Because of the strength and depth of our music program, everyone in the tri-county area is welcome to benefit from private instrumental or voice lessons with a college level instructor, trained to offer students an optimal experience that combines concentration and enjoyment.
And, of course, it's about so much more than music. Self-discipline, pattern–recognition, and problem solving are all integral parts of a music education. Less tangible but no less real is the joy that music provides. Music is fundamental. It is life enhancing.
OU's Music Preparatory Division can help everyone incorporate music more fully into their lives. For more information call 248.370.4401, email
musprep@oakland.edu
or visit
www.oakland.edu/musicprep
.


Created by Gillian Ellis (gellis@oakland.edu) on Thursday, March 31, 2011
Modified by Gillian Ellis (gellis@oakland.edu) on Friday, April 1, 2011
Article Start Date: Thursday, March 31, 2011