By Katie Land, news editor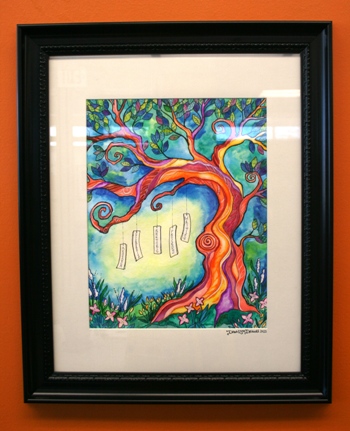 Dana Driscoll's original artwork was created for and donated to OU's Writing Center. The piece is a mixed-media painting.
Oakland University's Writing Center is blossoming, quite literally, thanks to a gift of artwork from Dana Driscoll, assistant professor of Writing and Rhetoric.
Driscoll's original mixed media painting features a whimsical tree, complete with collaged leaves cut from the pages of old or damaged books. The tree design is the signature logo of the center.
"This was a very generous donation," said Sherry Wynn Perdue, director of the Writing Center. "This beautiful painting fits our aesthetic perfectly. The colors and the style really pull together so much of the Writing Center's space to create a welcoming environment."
Having worked in three such centers before, Driscoll is dedicated to the Writing Center and works to conduct research on its benefits. When Wynn Perdue mentioned that she wanted tree-themed artwork for OU's center, Driscoll decided to put her talents to work.
"I paint as a hobby and trees are my primary artistic focus, so it seemed like an excellent idea to paint and donate a piece to the Writing Center," Driscoll said. "In this piece, I was able to combine my love of painting trees with my knowledge of the Writing Center's primary focuses: collaboration, writing, research, rhetoric, and the writing process."
Painted brightly and overflowing with plants, the space itself is designed to be as welcoming as possible, according to Wynn Perdue.
"Writing is a very personal experience that can be highly stressful for a novice writer or new student," Wynn Perdue said. "It is easy for many people to get overwhelmed, so we work to create a positive and creative environment here."
Both the plants and the center are thriving these days, boasting a healthy 32 year old tree named Sam, and visits from more than 2500 students each semester. There are currently 27 writing consultants on staff who provide individual and small group writing support.
Formally launched in 2006, OU's Writing Center is a resource for the entire campus community, from undergraduates to doctoral candidates working on a thesis to faculty members seeking tenure.
The Writing Center is tied closely to the OU's writing and rhetoric major, which combines print, visual and auditory studies into one program. As part of the visual component, the Writing Center also exhibits student artwork from studio art courses each semester.
For more information about OU's Writing Center, view the website at
oakland.edu/ouwc
. For more information about the WRT major, view the website at
oakland.edu/wrt
.
OU's Writing Center is blossoming, thanks to a gift of original artwork, which helps to create a welcoming and creative environment at the center.

Created by Katherine Land - Deleted (land@oakland.edu) on Friday, March 18, 2011
Modified by Katherine Land - Deleted (land@oakland.edu) on Friday, March 18, 2011
Article Start Date: Friday, March 18, 2011