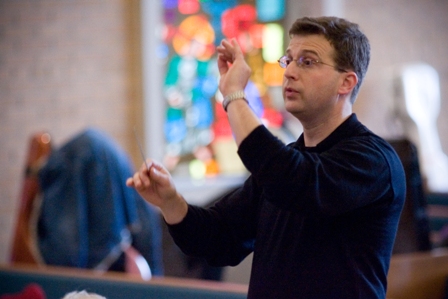 In some ways, the Oakland Symphony Orchestra concert that Gregory Cunningham will conduct on Wednesday, March 16, has been about three decades in the making.
Starting at 8 p.m. at the Dearborn Civic Center, the Oakland University Symphony Chorus and the Madrigal Chorale of Southfield will join the OSO in performing Gustav Mahler's Symphony No. 2 in C minor, popularly known as "Resurrection."
Gregory Cunningham will lead the OSO in a performance of Gustav Mahler's Symphony No. 2 in C minor on Wednesday, March 16.
"This is piece of music I have literally dreamed of being able to conduct," Cunningham explained, noting that this demanding piece of music is among the composer's most popular and critically acclaimed works.
"I knew I loved this piece 30 years ago, but I had no idea just how amazing it is until we began preparing to perform it. The opportunity to be the primary interpreter is pretty fun, but it's also a huge responsibility to the composer and to the musicians you're working with."
In the latter sense, Cunningham – who teaches orchestral and wind conducting at Oakland and serves as the university's director of bands – said he feels privileged to be working with both highly experienced professional musicians and students just beginning to find their footing in the world of classical music performance.
In fact, the Illinois native came to Oakland in 1997 specifically for the opportunity to both continue his lifelong desire to teach and to take part in classical music performance at an exemplary level.
"These are highly trained musicians," Cunningham said. "There are people in this orchestra with doctoral degrees in music sitting next to very talented students who can really benefit from this kind of experience. It is so important in their development as musicians."
The now veteran conductor admits that the experience is equally enriching to himself, in that he regularly has opportunities to see how the individual creativity of orchestra musicians can lend new insight into how even very familiar pieces can be interpreted.
"I think a lot of conducting is learning to let go of some of that ownership," Cunningham explained. "Working with professionals like these, you have a great deal of intellect and artistry involved in every performance. You can't help but be inspired by that."
That the OSO will perform Mahler's second symphony – a considerable musical and logistical undertaking – might be seen as a heartening sign of both artistic and institutional growth in the symphony's future. This is certainly something Cunningham is looking forward to.
"I believe the community enrichment component of our mission can only be enhanced by performances like this," he said. "If you come to it, you're going to get energized by it. It's absolutely magnificent. People, regardless of their experience with classical music, are going to respond to this piece."
At the same time, performances such as the March 16 engagement promise to offer students and other members of the university community even greater opportunity to expand their intellectual and cultural horizons.
Cunningham added, "To me that is what defines a great university. There are great courses and great lectures and great professors, and those things are critically important, but there are also the cultural experiences. In the end, I believe they help create better life possibilities and opportunities for everyone who comes here."
Tickets for the upcoming performance are $26 for general admission, $21 for senior citizens and $16 for students. For more information, call (248) 370-3321 or e-mail to gellis@oakland.edu. To order tickets, call (248) 370-3013 from Tuesday-Friday or visit or
StarTicketsPlus.com
and use the search phrase "Oakland."