Thursday, March 10, 2011
We're Dancing Again!
Oakland's men's basketball team is once again heading to the NCAA Tournament and we want to let you know about some very special and exciting upcoming events.
Selection Sunday Viewing Party at the O'rena

Sunday, March 13- 5pm-6:30pm
Join us on Sunday, March 13th for a viewing party to see where the Golden Grizzlies will play in the tournament. The viewing party will take place on Sunday from 5pm-6:30pm in the O'Rena. Enjoy this special opportunity to meet and greet with the Men's Basketball Team and receive free snack food, giveaways, and fun! Check www.ougrizzlies.com for more details.
Breakfast With the Team
Monday, March 14- 7:15am-8:45am
Have breakfast with the team on Monday, March 14th at the Royal Park Hotel in Downtown Rochester. Hear Coach Kampe break down the upcoming opponent and meet with the players and coaching staff. The RSVP form is attached to this email. RSVP and advance payment is strongly suggested. This is a very popular event and provides a unique opportunity for Oakland fans.
NCAA Tickets
Monday, March 14- 9am
Information on purchasing tickets to the NCAA tournament will be available at the Selection Sunday Viewing Party and Breakfast With the Team events. Ticket requests can be made starting Monday, March 14th at 9:00am by calling the OU Athletic Ticket Office at (248) 370-4000. You can email questions regarding tickets to tickets@oakland.edu
Check WWW.OUGRIZZLIES.COM for the latest news and info on upcoming events and ticket ordering information.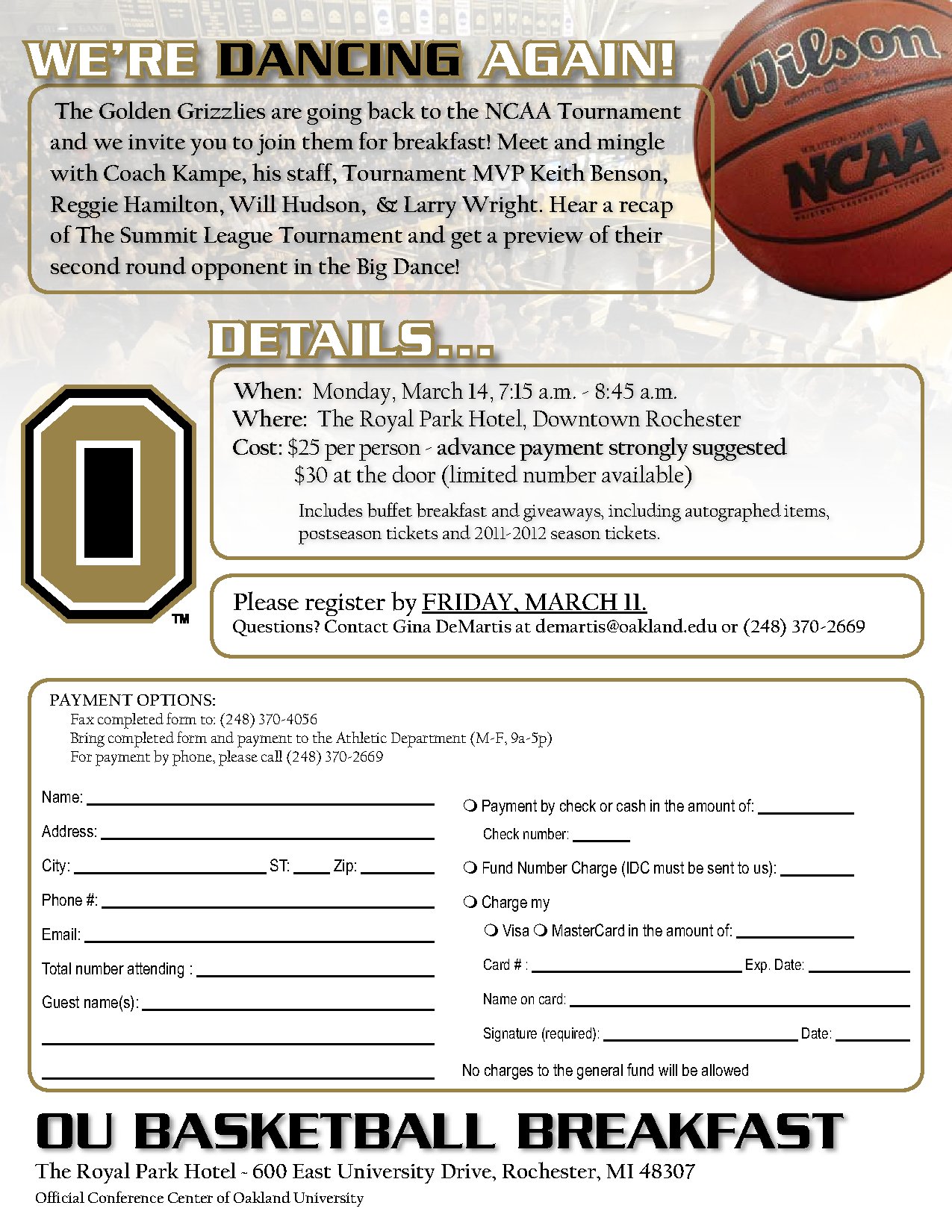 Oakland's men's basketball team is once again heading to the NCAA Tournament and we want to let you know about some very special and exciting upcoming events.

Created by Karen Coronado (kacorona@oakland.edu) on Thursday, March 10, 2011
Modified by Karen Coronado (kacorona@oakland.edu) on Thursday, March 31, 2011
Article Start Date: Thursday, March 10, 2011
Article End Date: Thursday, March 31, 2011