Wednesday, March 9, 2011
Oakland wins second straight Summit League crown, 90-76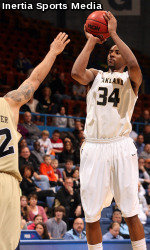 Keith Benson finished the championship game with 28 points, 14 rebounds and four assists.
For the second year in a row, Oakland University's Golden Grizzlies are the Summit League champions. The Grizzlies have now won three tournament titles (2005, '10, '11).
Keith Benson scored 28 points and Reggie Hamilton had 26 points to lead Oakland past Oral Roberts 90-76 on Tuesday night, clinching a berth in the NCAA tournament.
The No. 1 seed Golden Grizzlies (25-9) put the game out of reach by outscoring Oral Roberts 24-5 in a stretch to lead 84-64 with 4:26 left. Hamilton had 12 points and Benson eight in the outburst.
Dominique Morrison led No. 2 seed Oral Roberts (19-15) with 22 points and 11 rebounds.
Benson, the Summit League's player of the year, added 14 rebounds, four assists and three blocked shots.
For the most up-to-date information on all post-season play, visit the OU Athletics website at
ougrizzlies.com
.
For the second year in a row, Oakland University's Golden Grizzlies are the Summit League champions.

Created by Katherine Land - Deleted (land@oakland.edu) on Wednesday, March 9, 2011
Modified by Katherine Land - Deleted (land@oakland.edu) on Wednesday, March 9, 2011
Article Start Date: Wednesday, March 9, 2011