By Katie Land, news editor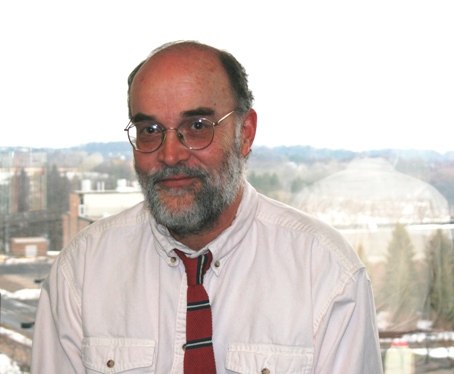 "Blood Prism" is Dr. Haworth Hoeppner's third collection of poetry. The Ohio State University Press Award in Poetry is his first national award.
For Oakland University professor Ed Haworth Hoeppner, Ph.D., poetry and writing is a way of life. These talents are now being recognized nationally with the 2010 Ohio State University Press Award in Poetry.
Dr. Haworth Hoeppner's volume of poetry, "Blood Prism" was selected from among hundreds of entries for the award, which offers publication of his manuscript by The Ohio State University Press and a $3,000 prize.
"Of course I was terribly excited to win the award," Dr. Haworth Hoeppner said. "While I've had books taken before, none were selected for a particular award. I'll be 60 in the fall, and perhaps the news was sweeter for my having been at things as long as I have."
Since 1975, Dr. Haworth Hoeppner has published nearly 300 poems, as well as two collections of poetry, "Rain through High Windows," and "Ancestral Radio." He has also published a critical study, "Echoes and Moving Fields: Structure and Subjectivity in the Poetry of W.S. Merwin and John Ashbery."
The winning collection, "Blood Prism," contains poems written over the course of several years, and can be divided into three distinct thematic sections: memory, politics, and age. These sections can be connected through the idea of "blood," which can be portrayed as family blood, the violence of politics, and age conceived of as the end of one story in a bloodline.
"These things—the past, family and childhood; the character of the larger world in which we live; the changes in self over time—are probably important to most people," Dr. Haworth Hoeppner said. "And for me, as always, my interactions with the natural world, with landscape and the creature world, are vital, not just as a backdrop, but as the living context inside of which I feel my life."
A professor at Oakland since 1988, Dr. Haworth Hoeppner works to encourage young writers to think critically, to keep the imagination active, and to develop disciplined writing habits.
"Being a poet has less to do with publication and more to do with writing all the time and engaging your mind and imagination," he said. "The more you think in those terms, the more you are able to express images and thoughts and discover new connections. It makes the world a much more interesting place."
Currently, Dr. Haworth Hoeppner is working to build a new creative writing major to offer Oakland students, something that would distinguish OU as only the third university in Michigan to offer such a program.
The field of creative writing is growing swiftly across the nation, and many Oakland graduates have already begun to have work published.
"My job is to try to make literature something valuable and pertinent to the individual person, to show how it comments on and allows deeper appreciation for the lives we lead, whatever sorts of lives those are."
"Blood Prism" is set to be published later this year, and will be available through The Ohio State University Press and at major booksellers.
For more information about the Ohio State University Press Award in Poetry,
view the website
. For more information about programs in Oakland's Department of English, view the website at
oakland.edu/english
.
OU's Dr. Haworth Hoeppner has won the 2010 Ohio State University Press Award in Poetry with his collection "Blood Prism."

Created by Katherine Land - Deleted (land@oakland.edu) on Friday, February 18, 2011
Modified by Katherine Land - Deleted (land@oakland.edu) on Wednesday, February 23, 2011
Article Start Date: Friday, February 18, 2011