By Dan Bodene, contributing writer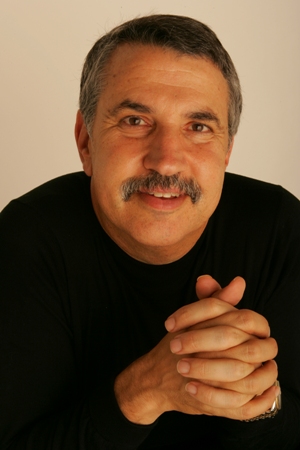 Author Thomas Friedman will lecture at OU as part of the Varner Vitality Seminar Series. Click on his picture to submit a question for the March 21 presentation.
Thomas L. Friedman, author and prize-winning columnist for The New York Times, will visit Oakland University at the rescheduled lecture event, set for Monday, March 21.
A three-time winner of the Pulitzer Prize, Friedman is the foreign affairs columnist for The New York Times. His latest book, "Hot, Flat and Crowded: Why We Need a Green Revolution — and How It Can Renew America," was a New York Times best seller.
Friedman's other works include "The World is Flat" (a former College of Arts and Sciences community book, and still used in several OU classes), "Longitudes and Attitudes: The World in the Age of Terrorism," "The Lexus and the Olive Tree" and "From Beirut to Jerusalem."
Tickets will be available at the Center for Student Activities Service Window, 49 Oakland Center. Seating is by general admission.
Ticket prices are:
OU students, faculty and staff – free (limit one free ticket)
One guest of OU students, faculty and staff – $5; additional guests – $10
OU alumni – $5 (First 300 OUAA members – FREE; sign up here)
High school or non-OU college students – $5
General public – $10
VISA and MasterCard will be accepted for purchasing tickets, including orders by phone – (248) 370-4407. Tickets ordered by phone will be held at will-call.
Friedman's lecture is part of the Varner Vitality Seminar Series, named in honor of Oakland's first chancellor, Durwood "Woody" Varner. The Varner Vitality Seminar Series aims to energize and sustain the highest academic and scholarly aspirations of the university community.
Sponsors of the Friedman lecture include OU's Student Life Lecture Board, Academic Affairs and Student Affairs divisions, Student Program Board and Oakland University Alumni Association.
For more information, contact the Center for Student Activities by phone, (248) 370-2400, or by email at
csa@oakland.edu
.
Editor's note:
Is there anything you'd love to know about this award-winning journalist and author? Would you like to win one of his books? If so,
submit a question
for Mr. Friedman to answer during his presentation.