Wednesday, January 12, 2011
Philosophy professor's work republished in commemorative journal
By Katie Land, news editor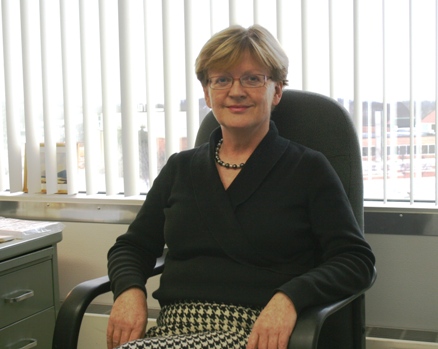 OU's Phyllis Rooney has been republished in a special 25th anniversary issue of Hypatia, the premier journal in feminist philosophy.
For Oakland University's Phyllis Rooney, quality work never goes out of style. A scholarly paper she wrote nearly twenty years ago has recently been selected for reprint in a special commemorative issue of Hypatia, the premier journal in feminist philosophy.
The associate professor of philosophy originally published the paper, "Gendered Reason: Sex Metaphor and Conceptions of Reason" in the journal in 1991.
It is now being republished in the Hypatia 25th Anniversary Retrospective Virtual Issue, which is an online collection of 16 of the most influential and innovative Hypatia articles published since the journal was established in the mid-1980s.
Each selection in the commemorative issue was chosen and voted on by the journal's readers, something that makes the edition more special.
"I was thrilled to have my paper selected by readers as one of the most influential published in the journal in its 25 years so far," Dr. Rooney said. "I was pleasantly surprised. When you publish something, you don't really know who is reading it, but I'm glad that many people found it useful and helped contribute to their understanding of feminist philosophy."
In her paper, Dr. Rooney explores how philosophical concepts of reason and rationality have traditionally excluded many traits such as body, passion, nature or instinct that are considered to be feminine.
"Drawing on philosophical work on the cognitive role of metaphors, I argue that our conceptions of mind, reason, unreason, female, and male have been distorted in our Western philosophical tradition," Dr. Rooney explained. "The politics of "rational" discourse were set up in ways that still subtly but powerfully inhibit the voice and agency of women."
Hypatia is dedicated to the publication of scholarly research in the combined fields of philosophy and women's studies, and is considered to be a leader in reclaiming the work of women philosophers.
To view the special Hypatia 25th Anniversary Retrospective Issue,
click here
. For more information about Oakland's philosophy programs, view the website.
OU Professor Phyllis Rooney's scholarly paper has been republished in the 25th anniversary issue of Hypatia, a feminist philosophy journal.

Created by Katherine Land - Deleted (land@oakland.edu) on Wednesday, January 12, 2011
Modified by Katherine Land - Deleted (land@oakland.edu) on Wednesday, January 12, 2011
Article Start Date: Wednesday, January 12, 2011