Friday, January 7, 2011
Donations lead to unique new lab in OU's Eye Research Institute
By Dan Bodene, contributing writer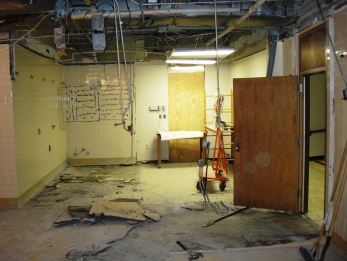 Space is being renovated in Dodge Hall to house the new Virginia and Clarence Clohset Pediatric Retinal Research Laboratory.
Funded by donations totaling $2 million, a unique new laboratory is being built in Oakland University's Eye Research Institute (ERI).
The Virginia and Clarence Clohset Pediatric Retinal Research Laboratory (PERRL) will be housed in a renovated 800-square-foot area in Dodge Hall. The target for completion is late January 2011. It is believed PERRL will be the only laboratory in the country dedicated solely to pediatric retinal research.
PERRL will be led by Dr. Michael Trese of Beaumont Hospitals, a world-renowned expert on pediatric eye diseases and longtime member of the ERI's clinical faculty. Other ERI clinical faculty who will be closely associated with the new laboratory are Dr. Kimberly Drenser and Dr. Anthony Capone. The staff will initially include technicians and vitreoretinal research fellows who will have access to ERI core facilities and be able to collaborate with ERI faculty.
"The initial focus of the lab will be on developing drugs and therapies for congenital eye diseases, including retinopathy of prematurity, familial exudative vitreoretinopathy, X-linked retinoschisis and retinal disorders associated with juvenile diabetes," said Frank Giblin, Ph.D., ERI director.
He added, "This follows in the tradition of our first director, Dr. V. Everett Kinsey, who received the prestigious Albert Lasker Award for his pioneering studies on retinopathy of prematurity."
The Clohset and Bergquist families donated the funds for the lab through Dr. Trese and the ROPARD (Retinopathy of Prematurity and Related Diseases) Foundation. Committed funds will be used for laboratory renovation, equipment, supplies and salaries, but Dr. Giblin said additional funding will eventually be sought from various foundations and the National Eye Institute.
Dr. Giblin said PERRL will offer state-of-the-art equipment that will benefit ERI's research on potentially blinding eye diseases. One of the first pieces of equipment ordered is a highly sophisticated retinal imaging and electroretinography (ERG) system.
"This new laboratory opens up all sorts of exciting possibilities," said Dr. Giblin. "Dr. Trese may take advantage of the OU-INCubator to develop new drugs. And, a sophisticated imaging system will allow the ERI to test ocular drugs for retinal toxicity for various companies in order to generate income."
For more information on the ERI,
view the website
.
Funded by donations totaling $2 million, a unique new laboratory is being built in OU's Eye Research Institute (ERI).

Created by Katherine Land - Deleted (land@oakland.edu) on Friday, January 7, 2011
Modified by Katherine Land - Deleted (land@oakland.edu) on Friday, January 7, 2011
Article Start Date: Friday, January 7, 2011