By Dan Bodene, contributing writer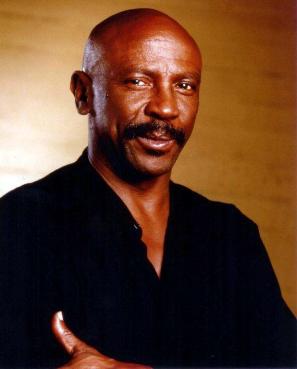 Actor Louis Gossett Jr. will be the keynote speaker for Oakland University's Keeper of the Dream celebration .
Louis Gossett Jr., an activist, producer, director and actor with wins in the Academy Awards, Emmys and Golden Globes, will be the keynote speaker at the 19th annual Keeper of the Dream Scholarship Awards celebration. The event begins at 11:30 a.m. on Monday, Jan. 17, 2011, in the Oakland Center Banquet Rooms.
Gossett made his acting debut at 17 while still in high school, earning a Donaldson Award for Best Newcomer for his work in the Broadway production of "Take a Giant Step." He also has appeared on Broadway in "Golden Boy" (1964) with Sammy Davis Jr. and in "Chicago" (2002).
His film career began in 1961, reprising his stage role in "A Raisin in the Sun." Since then, he has appeared in scores of films, including "Travels With My Aunt," "Iron Eagle" and its sequels; as well as "Jaws 3-D," "The Punisher" and "An Officer and a Gentleman," for which he won the Academy Award for Best Supporting Actor, a Golden Globe Award and an NAACP Image Award.
His television work has included the "Roots" miniseries, which earned him an Emmy award in 1977, the title role in the 1983 made-for-TV movie "Sadat" and, more recently, roles in "Stargate SG-1" and "ER."
Gossett is an alumnus of the Boys and Girls Clubs of America, and has supported and worked with the organization for many years. A national spokesperson for CARE, Gossett worked throughout the mid-1990s to raise social awareness and help end hunger and poverty among children. He also is founder of the Eracism Foundation, which focuses on eradicating racism and social ignorance while promoting tolerance and cultural awareness with children.
"One mentality cannot run the world anymore," Gossett said. "We need to communicate with each other without resorting to violence to create peace, care for our planet, and encourage the cooperation between races, religions, and communities."
Recently, Gossett received a National Organization of Black Owned Broadcasters Pioneer in Entertainment Award, a Community Advocates Award from St. Vincent de Paul Council of Los Angeles, and the American Legacy Men of Honor and Distinction Awards from Legacy magazine. He also has received Lifetime Achievement Awards from the Palm Beach International Film Festival and the 14th Annual African American Marketplace.
Oakland's Keeper of the Dream Scholarship Awards celebration honors the legacy of the late civil rights leader, Dr. Martin Luther King Jr. The celebration recognizes students who exemplify Dr. King's vision, and reward their efforts in promoting interracial acceptance and understanding.
Established in 1993, Keeper of the Dream provides scholarships up to $5,000 for students who have demonstrated strong citizenship, scholarship and leadership in breaking down cultural stereotypes and promoting interracial understanding. Since its inception, more than 50 students from a wide variety of academic majors have been awarded scholarships.
For more information about the Keeper of the Dream event, please call the Center for Multicultural Initiatives at (248) 370-4404 or visit
the Keeper of the Dream website
.
Academy Award winning actor Louis Gossett Jr. will be the keynote speaker at the Keeper of the Dream Scholarship Awards celebration.

Created by Katherine Land - Deleted (land@oakland.edu) on Monday, December 20, 2010
Modified by Katherine Land - Deleted (land@oakland.edu) on Monday, December 20, 2010
Article Start Date: Monday, December 20, 2010