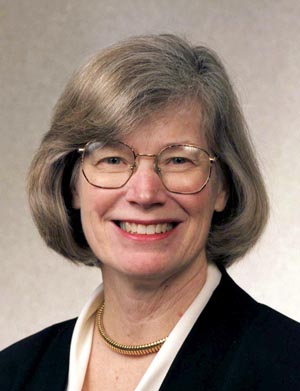 Ann Nicholson
Oakland University's Board of Trustees has approved a resolution to recognize the exceptional service and many contributions of former Board member and long-time university benefactress Ann V. Nicholson.
To honor her remarkable dedication to the university and its students, the Board endorsed a recommendation from President Gary Russi to name the University Student Apartments in her honor.
"In light of all Ann has done to advance Oakland University and ensure that its students receive the best educational experience we can possibly provide, it is only appropriate that her work be remembered in perpetuity," Russi said.
"The entire university community owes her a debt of gratitude, and this is one way we'd like to express that."
Nicholson served on the Board of Trustees for 16 years, starting in September 1994. During her tenure, she acted as vice chair and chair of the Finance and Personnel Advisory Committee, as well as the Investment Advisory Committee. She also served on the University Affairs Advisory Committee and the Finance, Audit and Investment Committee.
Nicholson also served as co-chair on the President's Campaign Council for "Innovation and Opportunity – The Campaign for Oakland University." The university's first-ever capital campaign marked a successful conclusion in 2009 after raising nearly $112 million. This was $2 million more than the campaign goal and the total was reached a full year ahead of schedule.
Nicholson and her husband, James, are members of the Meadow Brook Society, which recognizes university donors who have contributed between $500,000 and $1 million. The pair have supported OU through generous gifts to many university departments and units, including the Oakland University William Beaumont School of Medicine, School of Nursing, School of Business Administration, Honor's College, Kresge Library and the Department of Music Theatre and Dance.
They have also provided support for programs in Women Studies, Mathematics and Sports Medicine, as well as scholarship funding for the College of Arts and Sciences, the Eye Research Institute; the performing arts, Oakland University Alumni Association; the Athletics Department; Meadow Brook Hall; Meadow Brook Theatre and numerous university events, such as the annual Keeper of the Dream Banquet and the Student Life Lecture Series.
Board Chair Henry Baskin served with Nicholson for 14 years.
"Her primary focus was the best interest of the students. She cared about their comfort, happiness and progress," he said.
"Very few times in your life will you meet a person like Ann Nicholson. She was known for her gentle manner, unswerving direction and always goal oriented."
In April 2001, Nicholson helped with the development of the University Student Apartment Project, serving as a Board liaison and collaborating with the University Committee to design the apartments to best meet the needs of campus residents. Completed in 2002, the apartments stand as the university's model for student living and presently house more than 450 campus residents.
"She was ahead of her time with respect for the need for student facilities," Baskin said. "I didn't believe they were necessary at the time. However she was the one who pushed the program with Vice President Mary Beth Snyder. In retrospect, that was the correct and logical goal."
Originally appointed to the Board of Trustees by Governor John Engler, Nicholson closed her tenure on Aug. 11, 2010. At that time, the board honored her for helping to keep tuition and fee increases as low as possible, continually offering her knowledge and insight in addressing university business, and dedicating countless hours of work relying on her unique, professional experiences. The Board's action included naming Nicholson a Trustee Emeritus, with all of the attendant rights and privileges of that position.
To honor her remarkable dedication to the university and its students, the Board approved a resolution to name the University Student Apartments in her honor.

Created by David Groves (groves@oakland.edu) on Friday, December 17, 2010
Modified by David Groves (groves@oakland.edu) on Friday, December 17, 2010
Article Start Date: Friday, December 17, 2010