Thursday, November 18, 2010
ISSO students teach diversity and culture in the community
By Eric Reikowski, media relations assistant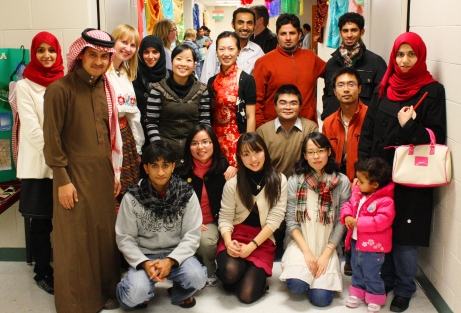 OU students from around the world gather to teach about culture and diversity to elementary school students in the community.
As part of its Learn About Me program, Oakland University's International Students and Scholars Office (ISSO) recently sent a group international students to give cultural presentations to youngsters at Auburn Elementary School's second annual Diversity Festival.
Natives of five different countries, the 16 students presented to more than 200 children and family members who attended the event, according to Petra Knoche, ISSO assistant director.
"I am so proud of our international students who volunteered their time to share their cultures and traditions with the community," said Knoche. "It is very important for the ISSO to recognize the variety of international students we serve and appreciate the contributions they make both on and off campus."
More than 17 countries were represented at the festival, which included cultural displays, performances, food and games, and one-on-one interaction among people of diverse backgrounds.
"I decided to participate in the festival because I am always interested in learning about other cultures and ethnicities," said Katrin Siider, a senior social work major who represented Estonia. "In a country as diverse as the United States, children will be exposed to many different cultures, and it's important for them to learn how to value and respect the diversity around them."
Another OU student, Hiroyo Oda, introduced the children to Japanese culture by teaching them the ancient art of origami.
"It was challenging for me to teach origami, but it was really interesting and I had a great time," said Oda, a junior majoring in Linguistics. "This was my first time visiting an American elementary school, so it was fun for me to see the differences between a Japanese elementary school and an American one."
ISSO provides support for international students and is committed to building an international campus through service, support and advocacy to nurture global citizenship and multicultural appreciation.
For more information on ISSO programs and services,
visit the website
.
International students from OU gave cultural presentations to youngsters at Auburn Elementary School's second annual Diversity Festival.

Created by Katherine Land - Deleted (land@oakland.edu) on Thursday, November 18, 2010
Modified by Katherine Land - Deleted (land@oakland.edu) on Thursday, November 18, 2010
Article Start Date: Thursday, November 18, 2010