Monday, November 15, 2010
OU's Eye Research Institute acquires state-of-the-art microscope
A Zeiss Axio Imager 2 fluorescence microscope.
Thanks to a $107,845 grant from the National Institutes of Health, Oakland University researchers now have access to a high-end microscope that is opening whole new realms of investigative possibilities.
The Eye Research Institute recently acquired a Zeiss Axio Imager 2 fluorescence microscope, which is capable of magnifying cell and tissue samples up to 1,000 times with remarkable clarity and detail.
Dr. Shravan Chintala, an Eye Research Institute investigator who is exploring the causes of glaucoma and who will oversee use and care of the instrument, said its magnification capability is just one of many benefits that come with this highly advanced piece of technology.
The microscope also can isolate the colors of up to 10 different fluorescent dyes at a time, allowing researchers to focus on multiple biological components of a given cell or tissue sample. Additionally, the microscope can make detailed scans of samples one microscopic layer at a time, and then compress the images of each layer into a single, composite image.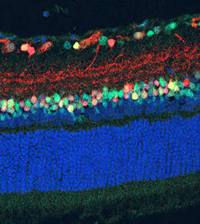 A three-color image of immunostained cross section showing amacrine cells (red), ganglion cells (green and red), and cell nuclei (blue).

Dr. Chintala explained that in essence, the microscope is allowing investigators who use it to examine the results of their experimentation in ways that simply were not possible before. For the first time, for example, samples can now be studied using three-dimensional and time-lapse imaging.
Dr. Frank Giblin, director of the Eye Research Institute and the investigator who wrote the NIH grant for the microscope, said a number of favorable factors came together in winning it.
First, five researchers from the Institute and the Department of Physics, all of whom are working with NIH grant funding, joined forces in making the case for OU's considerable need. Among the things they noted is that the institute had been working with a 12-year-old instrument that offered few if any of the same capabilities.
Secondly, in a show of strong institutional support, the Office of the Provost agreed to cover the cost of a 4-year service contract. This, Giblin said, likely made the grant a far more attractive proposal to NIH reviewers.
"It seems like everything came together for us on this one, and it is really going to be a great help to the work we're doing," he said.
In addition to Eye Research Institute investigators, the microscope is being made available to any OU researcher who can benefit from its advanced capabilities. Already, there has been considerable interest from investigators anxious to get training and begin looking at their work with a whole new level of precision and insight.
The Zeiss Axio Imager 2 fluorescence microscope is capable of magnifying cell and tissue samples up to 1,000 times with remarkable clarity and detail.

Created by David Groves (groves@oakland.edu) on Monday, November 15, 2010
Modified by David Groves (groves@oakland.edu) on Monday, November 15, 2010
Article Start Date: Monday, November 15, 2010