By Katie Land, news editor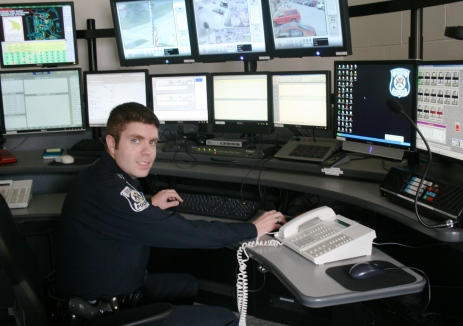 Officer Ken Kiley operates the new digital communications system at the Oakland University Police Department's dispatch.
The Oakland University Police Department received a major and much-needed boost this fall, in the form of a new digital communications system that allows the department to directly connect to first responder agencies throughout Oakland County.
The system comes as part of a large $111 million federal grant awarded to Oakland County and designed to create interoperability between local police, fire and EMS departments.
"This new equipment has enhanced our ability to respond to and manage any major emergency situation on campus," said OU Police Chief Samuel Lucido. "The system has allowed us to connect with other agencies in a way we were never able to before."
The new equipment couldn't have come at a better time for OUPD. The previous radio system was outdated and suffered frequent breakdowns, Lucido continued. A basic new system would have cost the university up to $300,000, and would not have connected Oakland to outside agencies.
Now the grant has paid for a top of the line system that promises to dramatically improve police and emergency communications both on and off campus.
Roughly $310,000 worth of equipment has been added to OUPD's communications arsenal. The dispatch center received a significant portion of funds, and portable radios, squad car computers, and supplemental equipment were all updated as well.
"The arrival of this system has opened up a whole new world of communications to us," said Captain Mark Gordon, who is also the administrator for radio communications and dispatch. "It has made a significant impact in our daily operations."
OU's Open Sky Radio System became fully operational this October, and has already proven useful in a number of situations, Gordon said.
When a fire alarm went off in an East Campus building this fall, OU's dispatch officers used the system to guide a Rochester Hills fire truck through campus, saving minutes of time. In an emergency situation, those minutes could be priceless.
For more information about the OUPD,
visit the website
.
To reach the OUPD in the event of an emergency:
• Call 911 from any campus phone
• Call (248) 370-3333 from any cell phone
• Text the dispatch office at
911@oakland.edu
• E-mail the dispatch office at
911@oakland.edu
OUPD has a new digital communications system that allows the department to directly connect to first responder agencies in Oakland County.

Created by Katherine Land - Deleted (land@oakland.edu) on Friday, November 5, 2010
Modified by Katherine Land - Deleted (land@oakland.edu) on Friday, November 5, 2010
Article Start Date: Friday, November 5, 2010