Wednesday, October 20, 2010
Students, alumni and faculty represent OU at the Great Michigan Race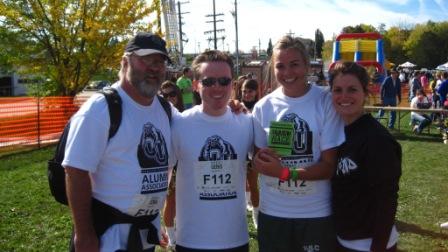 Oakland University students, alumni and faculty showed their support for Michigan Special Olympics and the local community by competing and performing at the Great Michigan Race held in downtown Rochester Oct. 17, 2010.
Teams of four competed in ten different "challenges" throughout the day in and around the downtown to test their ingenuity, strength and skill. OU's team, "Bear Necessities," included Professor of Psychology and Associate Dean, College of Arts and Sciences, Robby Stewart, Aaron Kochenderfer (CAS '08), and current students Claire Steensma and Emily Tissot.
"I really enjoyed the event," Kochenderfer said. "It seemed that the "Bear Necessities" team had a great time! It was an adventure throughout Rochester -- I thought I knew a lot about the town beforehand, but I saw a number of things that I haven't visited before. We walked to the Older Persons Commission, the Oynx Ice Arena and around Dinosaur Hill. The challenges were more fun than 'challenging' -- we located marks in Dinosaur Hill, used a fire hose, zip lined across Paint Creek, wrote Thanksgiving cards to U.S. troops overseas, and simply took a group photo on bicycles."
OU's Dance Team and Cheerleading squad brought OU pride and spirit to the day as they entertained the crowd with performances and interacted with participants and families.
Two additional teams of OU swimmers from the Oakland University Men's and Women's Swim Team also competed in the race.
In all, more than 60 teams competed to raise $20,000 for Michigan Special Olympics. "Thank you for the strong showing by all our team participants and athletes," OU President Gary Russi and Great Michigan Race Honorary Committee member said. "This was for a great cause and I'm glad our students, alumni and faculty took part."
OU shows its support for Michigan Special Olympics at the Great Michigan Race in downtown Rochester.

Created by Karen Coronado (kacorona@oakland.edu) on Wednesday, October 20, 2010
Modified by Karen Coronado (kacorona@oakland.edu) on Thursday, October 28, 2010
Article Start Date: Wednesday, October 20, 2010