Monday, September 20, 2010
English professor Brian Connery offers British literary expertise
By Eric Reikowski, media relations assistant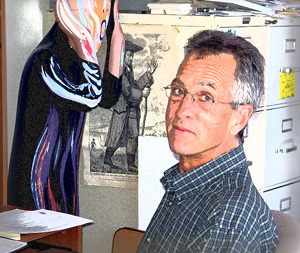 English professor Brian Connery specializes in Restoration and 18th-century literature at OU.
As a professor of English at Oakland University, Brian Connery, PhD, specializes in Restoration and 18th-century literature, Satire, and the early British novel.
He has edited and published two books of essays, one on theories of satiric art and one on the life and work of Jonathan Swift. He has also published essays on academic fiction, satire, Jonathan Swift, the teaching of writing, and English department administration in a variety of scholarly journals and books.
From 1997 to 2002, Dr. Connery served as the chair of the OU Department of English. His service also includes chairing the Senate Committee on Admissions and Financial Aid and serving on the General Education Committee, the University Senate, the College of Arts and Sciences Assembly, and the OU Journal Advisory Board.
In 2006, Dr. Connery became director of Oakland University's British Studies at Oxford program, a study-abroad opportunity that allows students to earn academic credit by taking courses while in residence at Brasenose College, University of Oxford, in England.
Dr. Connery is the recipient of many university honors, including the Teaching Excellence Award, Judd Family English Department Faculty Achievement Award, Oakland University Faculty Recognition Award and English Department Merit Award for Teaching.
Dr. Connery earned his PhD from the University of Arizona. Since joining Oakland University in 1989, he has taught courses in Shakespeare, British Literature, Literature of the Restoration and 18th century, the English Novel, Satire, Comedy and Irish Literature.
For more information about Oakland's English programs,
view the website
.
As a professor of English at Oakland University, Brian Connery, PhD, specializes in Restoration and 18th-century literature, Satire, and the early British novel.

Created by Katherine Land - Deleted (land@oakland.edu) on Monday, September 20, 2010
Modified by Katherine Land - Deleted (land@oakland.edu) on Monday, September 20, 2010
Article Start Date: Monday, September 20, 2010