Wednesday, September 15, 2010
Bike Share Program rolls into successful second year
By Katie Land, news editor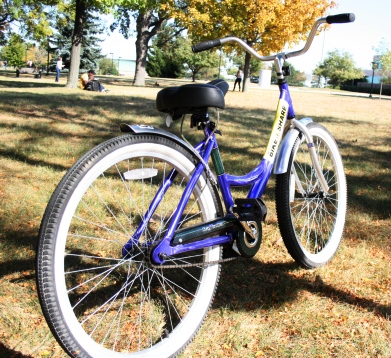 OU's Bike Share Program boasts 60 new purple bikes for fall 2010. The program has been popular with students and staff.
With the start of the fall semester, many students have noticed a fleet of eye-catching purple bicycles cruising around campus. In its second year, the Oakland University Bike Share Program is making a splash with the launch of 60 new bicycles.
The innovative program offers free, eco-friendly and healthy choices for students, staff and faculty to cover distances on campus.
Largely a student-led initiative, the Bike Share offers a convenient method of transportation and helps to reduce traffic, as well as decrease the campus parking demand and reduce fuel emissions, all while promoting physical fitness and a sense of community.
"The Bike Share program is contributing to a shift in the university culture to ride more or walk more throughout campus," said Greg Jordan, director of the Department of Campus Recreation. "It's a great way to get some exercise outside of the Rec Center, and will probably get students to their destinations a lot quicker than walking or trying to drive."
Program organizers anticipate an increase in the number of private bikes on campus and plan to continue to develop a bike-friendly campus culture by establishing bike lanes and bike trails throughout campus.
Additional bike racks have been added to various locations on campus, with the most recent additions at P-1, P-11, P-35, P-37 and the parking structure.
Developed to be used on an honor system, the bikes are to be used only on campus from March to the end of November, as weather permits, and will be stored during the winter months. The bikes feature single speed gears and "coaster" brakes.
"One of the challenges of the program is for riders to "respect the ride" and use the bike in an appropriate manner," Jordan continued. "Parking a bike in a bike rack is something we appreciate. The good news is I feel that riders are responding. I've received only a few reports of bikes found off campus, but I'm getting several calls every day that identify a bike that needs some attention from being in constant use."
For more information about the Bike Share Program, including policies, bike rack locations and more, visit the website at
oakland.edu/bike
.
In its second year, the Oakland University Bike Share Program is making a splash with the launch of 60 new bicycles.

Created by Katherine Land - Deleted (land@oakland.edu) on Wednesday, September 15, 2010
Modified by Katherine Land - Deleted (land@oakland.edu) on Wednesday, September 15, 2010
Article Start Date: Wednesday, September 15, 2010