By Katie Land, news editor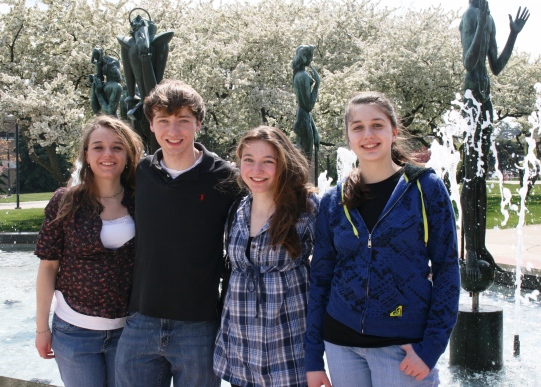 Siblings Elaine, Robert, Emily and Rachel Petrach are all pursuing engineering degrees in Oakland University's SECS.
An Oakland University education is all in the family for the Petrach siblings. Elaine, Robert, Emily and Rachel Petrach are all current students in Oakland's School of Engineering and Computer Science.
The siblings cover a lot of scholarly ground, from incoming freshman to graduating doctoral students, and a few steps in between. Currently, Elaine and Robert are working on their doctorates, while Emily is working to complete her bachelor's degree, and Rachel is about to begin her first year of college.
All four are currently living at their family home in Troy, and all share an interest in engineering.
Leading the Oakland charge is Elaine, who plans to graduate with her doctorate in mechanical engineering this fall. She has already completed her coursework and has spent the summer working on a study to develop a new composite bipolar plate for fuel cells focusing on polymer and filler interactions.
She will have earned all three of her degrees at OU, demonstrating a commitment to the SECS's programs and encouraging her siblings with her success.
"It was economically the right choice, but it also was the best choice," Elaine said. "Oakland University is well known for their engineering programs and I like the atmosphere here. The class sizes are smaller than other schools, which makes it easier to connect with classmates and ask professors questions. Basically, OU is a place where you can put a name with a face."
Robert is currently pursuing his mechanical engineering doctorate as well, with an anticipated 2012 graduation. His research revolves around the study of applications of molecular dynamic simulation to solve hydrogen embrittlement related problems.
Going to school with his sisters has been a great experience, Robert said. Each sibling has their own individual friends and interests, but are able to share advice and activities when they need it.
"For the most part I feel that we are competing against ourselves, and not each other," Robert continued. "So there is no real downside. Actually, being so close to each other can be helpful when we have trouble in school, because we can also provide advice for what courses to take and who to take them with."
As a junior in the SECS's mechanical engineering program, Emily plans to graduate with her bachelor's degree this spring, and perhaps continue on in a master's program.
Watching Elaine and Robert work through Oakland gave her the positive encouragement she was looking for when embarking on her college career.
"From them I was able to hear about the engineering program OU had to offer, and on occasion I would go with them to campus to get books," Emily said. "Being able to see the amazing campus made me more anxious and got me excited to go to Oakland University rather than other colleges."
Entering freshman Rachel looks forward to beginning her own collegiate experience. She intends to major in chemical engineering and hopes to make her own mark on the program.
"I don't think having older siblings at the same school will affect me that much," Rachel said. "Even though we're all in the engineering area, we're still doing our own thing. The age difference doesn't matter to us."
Clearly, education is important in the Petrach family, and for them, engineering is the way to go.
"Our shared interests are really more of an understanding we have, and we ask each other questions on different aspects of engineering," Elaine said. "Our whole family are engineers for the most part, so if you don't understand something, chances are the answer is with someone in the house."
All four siblings were able to earn scholarships at OU. Elaine has earned a number of awards throughout her time at Oakland, including the Provost's Graduate Student Research Award for the 2010-2011 academic year, while Robert, Emily and Rachel have all earned OU's Talented Scholar scholarships as individuals.
For more information about engineering programs in OU's SECS, view the website at
oakland.edu/secs
.
An OU education is all in the family for the Petrach siblings. Elaine, Robert, Emily and Rachel Petrach are all current students in Oakland's SECS.

Created by Katherine Land - Deleted (land@oakland.edu) on Tuesday, August 24, 2010
Modified by Katherine Land - Deleted (land@oakland.edu) on Tuesday, August 24, 2010
Article Start Date: Tuesday, August 24, 2010