By Katie Land, news editor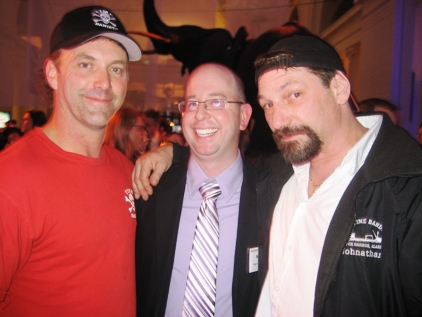 OU alumnus Brent Vasicek stands with two of the captains from the Discovery Channel's "Deadliest Catch" TV show.
Being recognized in a national arena is nothing new to Oakland University alumnus Brent Vasicek. After being selected in 2007 as Michigan's representative for the National American Stars of Teaching, as well as being recognized by the Discovery Channel, Vasicek has now earned a place as one of five new Scholastic Online Mentor Teachers.
As a teacher mentor for the Scholastic website, Vasicek will post a weekly article or blog about relevant teaching ideas and tips, as well as respond to questions and comments from readers. His goal is to spread exemplary and creative teaching practices across the country.
"Brent incorporated interactive, differentiated instruction and music in his teaching," said Linda Robak, director of professional development in the School of Education and Human Services. "Brent creates an engaging learning environment and makes learning fun. You can tell by his class video for Discovery Channel and homeroom web site. Brent sets high expectations for himself and his students."
Vasicek's path to success in teaching is not a traditional one. Originally, he went to school for medical technology and biology and spent a few years working in medical facilities such as the Beaumont Fertility Center.
Feeling as though something was lacking, Vasicek began to volunteer at the Specials Days summer camps, a program for children with cancer, and soon discovered a passion for working with youth.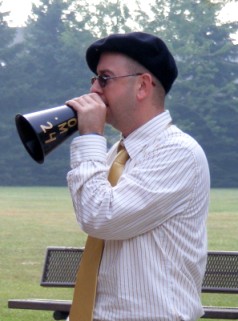 Vasicek greets his fourth grade students for a Hollywood themed school event.
"After volunteering for a few years, one of the directors of the camp approached me and asked what I did to gain such strong connections with the campers. I honestly didn't know that I did anything special," Vasicek recalled. "They suggested I put this undiscovered talent to good use. I thought about it for a few years before looking into programs. Now I can honestly say I have found my passion and love what I do."
In 2004, Vasicek graduated from OU's post-baccalaurate teacher certification program for elementary education, and has since completed his master's degree. Vasicek stayed on at Oakland, and continues to teach two courses in counseling specialization.
After only three years of teaching, Vasicek was recognized nationally as a National American Star of Teaching.
"At the time I was speechless," he said. "There are just so many great teachers doing great things out there. I couldn't, and still can't, believe I was selected as one of them. I remember thinking that I still had so much to learn to even begin living up to the honor. I think getting this award made me raise my own bar even higher to assure myself I was worthy of such an accolade."
For the past six years, Vasicek has been with the Chippewa Valley School District and has continued to make a splash at Miami Elementary School in Clinton Township.
With the help of his students, he created a classroom video in 2009 that was noticed by the Discovery Channel. The fourth grade
"Boom De Yada" video
was inspired by a commercial, and posted to youtube.com. Soon Vasicek was flown out to meet with Discovery Channel personalities and now a clip of his students singing has made its way into a
new national commercial
.
For more information about Oakland's SEHS programs,
view the website
. To view Vasicek's teacher mentor blog, visit "classroom solutions" section of the
Scholastic website
.
OU alumnus Brent Vasicek has received national recognition and has now earned a place as one of five new Scholastic Online Mentor Teachers.

Created by Katherine Land - Deleted (land@oakland.edu) on Friday, August 13, 2010
Modified by David Groves (groves@oakland.edu) on Monday, August 16, 2010
Article Start Date: Friday, August 13, 2010