Monday, August 9, 2010
World famous soccer teams visit OU's fields, tournaments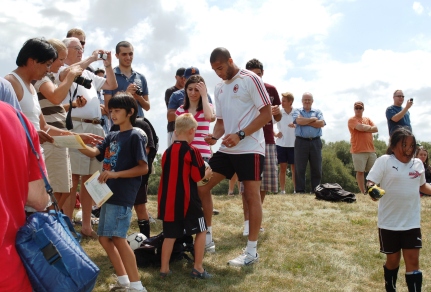 Players from AC Milan sign autographs for children at OU.
Oakland University's soccer fields were graced with players from two of Europe's oldest and most successful soccer clubs last week, in preparation for their match at the Silverdome last Friday.
AC Milan is one of the oldest European club soccer teams in the world and earned a shootout victory over Panathinaikos in front of over 30,000 spectators in the Clash of Titans match at the Silverdome. Both Panathinaikos and AC Milan held training sessions at the OU Soccer Field earlier in the week, and AC Milan returned to train at OU during the inaugural "Let the Kids Play" 5 v 5 soccer tournament, hosted by the OU women's soccer team.
The team arrived at the field and invited fans and tournament participants to sit on the hill and observe the practice session, while the tournament continued on the OU practice fields.
"The tournament was a great success," said head coach Nick O'Shea. "The kids had a lot of fun participating. It was a special treat for the players to watch AC Milan train and then to get autographs and pictures with the players and coaches."
The tournament featured a total of 26 teams across six different age groups ranging from under-nine to under-18. All the proceeds from the event go to support the Oakland women's soccer team.
Players from the team were relaxed near the end of the session and Clarence Seedorf (Holland) and Oguchi Onyewu (USA) meandered into the crowd for an impromptu autograph session with the fans that had assembled to watch the team train.
Between the two professional teams, a total of 17 players will have competed for their national teams at the 2010 FIFA World Cup in South Africa. Members of the teams played for Brazil, France, Ghana, Greece, Holland, Hungary, Italy and the United States.
OU's soccer fields were graced with players from two of Europe's most successful soccer clubs last week, in preparation for their match at the Silverdome last Friday.

Created by Katherine Land - Deleted (land@oakland.edu) on Monday, August 9, 2010
Modified by Katherine Land - Deleted (land@oakland.edu) on Monday, August 9, 2010
Article Start Date: Monday, August 9, 2010