Tuesday, August 3, 2010
OU graduate finds sense of purpose through Great Michigan Race internship experience
By Christie Taylor
Like any recent graduate I have been beating the pavement trying to find a full time job. When the opportunity to intern for the Great Michigan Race arose I jumped at the chance to become a part of such a new and exciting event. While experience was what I was looking for, what I found is worth so much more.
The Great Michigan Race (GMR) is a new event held in downtown Rochester this October 17 and is sponsored in part by Oakland University. Much like the show, "Amazing Race," 200 teams will be competing throughout the city completing tasks at challenge sites along the way. All the proceeds will benefit Michigan Special Olympics.
As I began interning, I was expecting to learn the many different facets of public relations and event planning. What I was not expecting was to develop such an emotional attachment to everything the Great Michigan Race represents.
One of the first promotional events I attended was at opening day of the Miracle League in Southfield. Here children of all different physical and mental capacities were able to play baseball on a field specially designed so as not to impede their ability to play. It was there that I started to feel like I was becoming a part of something much bigger then I anticipated.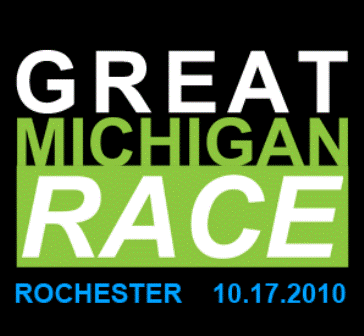 Along with gaining vital experience in my field, I have learned the importance of having a purpose that is bigger then just myself. I have learned that whatever I do throughout my life, the most important is what I can do for others. As an intern for the Great Michigan Race I know that my contributions serve a greater purpose and are benefiting many worthy people.
I took most of my public relation classes with Professor Kim Madeline and that's where I learned a lot about working in public relations. Many people say that to work in the field, outside of the classroom is where you learn your most valuable experience. But, I think Kim did a really good job of integrating real issues going on in the world and involving his students in real work that they would be doing in any PR job.
Throughout my career at OU most all of my teachers stressed one thing and that was to do something you love. Whether I decided to become a journalist or work in PR they stressed the importance of writing or representing something you felt strongly about. The Great Michigan Race is a cause that I really feel strongly about and it makes your work not seem so much like work when you genuinely want to do it.
A resident of Royal Oak, Michigan, Christie received a bachelor's degree in Journalism in 2010 with an emphasis in public relations. OU will participate in the Great Michigan Race this fall with alumni, faculty and student teams.


Created by Donna McVay (mcvay2@oakland.edu) on Tuesday, August 3, 2010
Modified by Donna McVay (mcvay2@oakland.edu) on Monday, August 9, 2010
Article Start Date: Tuesday, August 3, 2010