Thursday, July 29, 2010
Bernice Lopata named assistant vice president for University Relations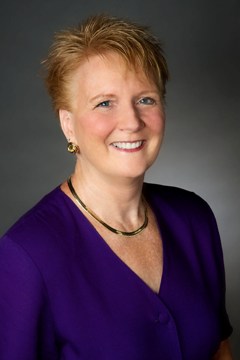 Bernice Lopata joins the OU community in the University Relations department.
Oakland University has named Bernice Lopata to the position of assistant vice president and campaign director for University Relations.
A veteran fundraiser in higher education, Lopata brings more than 20 years experience in development and campaign planning and strategy. Prior to joining Oakland, she was an associate vice president for Advancement Services at Wayne State University, where she led a team that included the Development Research, Constituent Relations, Information Services and Communications teams – critical resources for the university's frontline fundraisers.
Lopata also provided leadership and direction as an associate vice president for corporate and foundation relations, resulting in multiple grant awards and mutually beneficial partnerships. She played a pivotal role in successfully completing Wayne First: The Campaign for Wayne State University, raising nearly $900 million.
Previously, Lopata worked for Mercy College of Detroit, now University of Detroit Mercy, in Corporate and Foundation Relations.
Lopata holds a master's degree in English from Oakland University, a bachelor's degree in English from Siena Heights College and a bachelor's degree in theology from Xavier University. She serves on the board of directors executive committee for the Mercy Education Project, Detroit.
"I can't think of a better time to be at Oakland University," Lopata said. "The tremendous energy and momentum from the university's successful campaign position it to be an even stronger partner and contributor to the future of Oakland County and southeast Michigan. I am delighted to be able to help write the next chapter in Oakland's history."
"I am extremely pleased that Bernie has joined our development team, said Susan Davies Goepp, vice president for university relations and executive director of the OU Foundation. "Her fundraising skills, coupled with her firsthand knowledge of OU as an alumna, make her especially well suited for this leadership position."
Lopata can be reached at
lopata@oakland.edu
or (248) 364-6156.
Oakland University has named Bernice Lopata to the position of assistant vice president and campaign director for University Relations.

Created by Katherine Land - Deleted (land@oakland.edu) on Thursday, July 29, 2010
Modified by Katherine Land - Deleted (land@oakland.edu) on Thursday, July 29, 2010
Article Start Date: Thursday, July 29, 2010