By Katie Land, news editor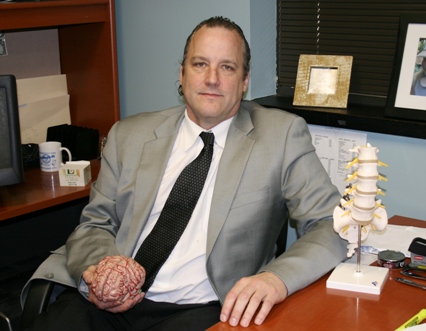 Dr. Underwood worked as a research assistant before going to medical school and becoming a neurosurgeon.
It is difficult to be more driven than Oakland University alumnus Dr. Bill Underwood. After spending eight years canvassing the globe as a U.S. Navy Seal, Dr. Underwood returned to university studies and in short time became a neurosurgeon with a private practice.
Being injured in the Navy sparked Dr. Underwood's interest in medicine. During his time in the hospital, he determined to become a doctor himself.
With an undergraduate degree in geological oceanography already under his belt, Dr. Underwood came to Oakland to gather the experience and complete the necessary prerequisite courses to go on to medical school.
"Oakland University was a great experience for me," he said. "Coming out of the Navy, I was paying for my education and wanted to be certain to get my money's worth. And at OU, I absolutely did."
From 1991-93, Dr. Underwood worked as an assistant in the research lab of Oakland's current provost, Dr. Virinder Moudgil. Studying steroid hormone receptors, he became enamored with research – an interest that has followed him to this day.
It took some time to earn a coveted place as a research assistant. "Dr. Moudgil saw a lot of students try and give up, but I kept coming back. I had to convince him that I was serious, and I could see him testing me every day."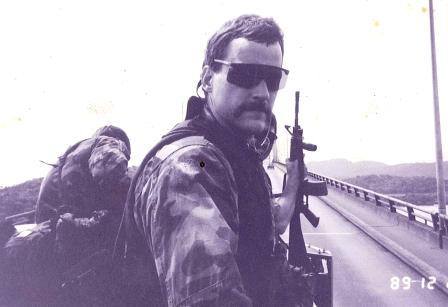 After eight years as a Navy Seal, Dr. Underwood returned to Michigan and attended Oakland to continue his studies.
At the lab, Dr. Underwood was able to participate in a number of Dr. Moudgil's research projects. He was able to make presentations at scientific meetings and assist with work to earn several small grants. As an assistant, he quickly learned to appreciate the research processes and the work ethic found in the lab, an experience he would recommend to any student searching for a true research experience.
"Dr. Moudgil is not only highly intelligent, but is also a very good man with high morals and an unwavering sense of integrity. I always felt that he legitimately cared about my education and my future. To this day, I can call him up and ask his advice."
Perhaps Dr. Underwood's most profound experience was becoming a Navy Seal. The training was challenging, and he was pushed to his physical and mental limits. He credits this strict regimen with providing the preparation for everything he's accomplished since.
"Seal training taught me that I can do the work of 10 men. As a surgeon, I'm often called into an emergency operation, followed by another and so on. I will be up for 60 hours straight sometimes. My Navy Seal training prepared me and gave me an extra advantage," he said.
This advantage came into play early on, as Dr. Underwood pursued a simultaneous medical degree and Ph.D. in the mid-90s.
"Having a challenge is what drives me. I need a new challenge every day, and the life of a surgeon offers that. I don't rest on the past. Instead I ask myself, 'what have I done today?'"
For more information about Oakland's science programs, visit the College of Arts and Sciences website at
oakland.edu/cas
.
After eight years as a U.S. Navy Seal, Dr. Bill Underwood attended OU before becoming a neurosurgeon with a private practice.

Created by Katherine Land - Deleted (land@oakland.edu) on Thursday, July 22, 2010
Modified by Katherine Land - Deleted (land@oakland.edu) on Thursday, July 22, 2010
Article Start Date: Thursday, July 22, 2010