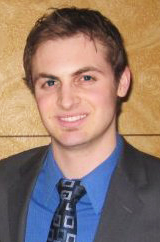 Jarret Schlaff is part of an exclusive group of 50 student leaders from across the world to attend the Hesselbein Leadership Summit in Pittsburgh this summer.



By Eric Reikowski, media relations assistant
Recent OU graduate Jarret Schlaff has been selected to attend the Hesselbein Leadership Summit in Pittsburgh this summer. He will be part of an exclusive group of 50 exemplary student leaders from across the world who will explore the art of effective, ethical and innovative leadership at the University of Pittsburgh's Hesselbein Global Academy for Student Leadership and Civic Engagement.
During the four-day event, Schlaff and other summit participants will gain valuable insight from many distinguished leaders and scholars who will share their expertise through a variety of workshops and seminars. He and his colleagues also will work together on a project to benefit the community.
"I am humbled to be recognized as one of the best student leaders from across the United States and the globe," said Schlaff, who earned a degree in public administration and public policy, along with minors in environmental studies and business administration.
Through his career at OU, Schlaff gained a reputation as a tireless leader and advocate for the student body. He was a member of the Oakland University Student Congress (OUSC), where he served in various leadership positions, including a stint on the OUSC Executive Board as director of student services. He spearheaded several initiatives that helped tackle challenges and enhance campus life for thousands of students. Mary Beth Snyder, Ph.D., Oakland's vice president for Student Affairs and Enrollment Management, cited many of them in a letter of recommendation she submitted to the Hesselbein selection committee.
"Jarret lives according to a heartfelt belief that with good ideas and hard work, one can improve the lives and conditions of others," Dr. Snyder wrote. "His actions have led to significant changes on our campus, all of which will have long-term, positive consequences for students."
While at OU, Schlaff was instrumental in establishing the Grizz Art program, a rotating student art exhibit housed in the student union. He lobbied successfully for extended library hours and helped address student parking concerns through a free shuttle service scheduled to begin this fall. He was the driving force behind the creation of "Grizzly Oaks," Oakland's own professional-style, eco-friendly disc golf course unveiled last September.
Additionally, Schlaff was active in several student organizations, including Students in Free Enterprise (SIFE) and Pi Sigma Alpha, the national political science honor society. He is founder and managing director of Urban Farming at Oakland, an organization that strives to educate students and community members about sustainability and resource conservation, along with maintaining a sustainable organic farm on campus to help combat hunger in the community.
His message has reached far beyond local and national borders. In May, Schlaff traveled to Guatemala to take part in the Farmer Service and Solidarity Project. He and others made a lasting impact on the local community, helping several villages start their own compost pile and improve their irrigation practices. Schlaff explained that helping people has always been his life's ambition and that coming to Oakland gave him a leg up on pursuing his dreams.
"Oakland University has broadened my perspective and shaped my character," Schlaff said. "I came to Oakland knowing that I wanted a career where I could help people and truly change lives."
Schlaff recalled that early in his college experience, he wasn't sure how he would achieve his aims. Through interaction with staff and students, however, he soon discovered the wealth of opportunities that would help transform his vision into reality.
"When I joined the OUSC, I was inspired by student leaders and encouraged by supportive faculty and administration that not only acknowledged and respected the students' input, but acted on their behalf," Schlaff explained. "I became the leader I am today because of the avenues that were available to me at OU."
While honing his leadership skills, Schlaff plans to pursue an advanced degree in Public Administration or Environmental Policy. He aspires one day to enter the political arena and become a representative at the local or state level.
"One of my major goals is to be part of the movement to enact environmental legislation that will combat wasteful industry practices by promoting sustainable, clean energy brought about by persuasive incentives that implement innovative technology that will not suffocate industry."
Jarret Schlaff will be part of an exclusive group of 50 exemplary student leaders from across the world who will explore the art of effective, ethical and innovative leadership.

Created by David Groves (groves@oakland.edu) on Tuesday, July 6, 2010
Modified by David Groves (groves@oakland.edu) on Tuesday, July 6, 2010
Article Start Date: Tuesday, July 6, 2010