By Katie Land, news editor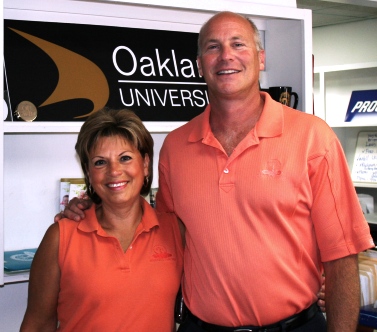 Local business owners John and Marie Pino have made a wealth of contributions to Oakland University.
Some of Oakland University's most dedicated volunteers come from outside the traditional university community. By giving countless hours to the School of Education and Human Services, Rochester business owners John and Marie Pino have become familiar faces on campus.
As donors and volunteers, the Pinos have made a wealth of contributions to the university. For the past seven years, John has been on the SEHS Resource Development Board and currently serves as its chairman.
The couple also created the Lewis Pino Award in Chemistry in honor of John's father, longtime OU organic chemistry professor and director of Research Services. Over the years, the Pinos have also offered independent grants and scholarship funds.
"There are a lot of people involved at the university," John said. "I truly believe that it takes everyone in the community – all the resources, all the talent and all the time from all walks of life to be able to sustain and grow the university. It has been a collaboration that I am happy to be a part of."
For Marie, the choice to help is simple. "I have an extra pair of hands. I'm happy to help," Marie said. "John commits fully to a project, and I do what I can to help. When he has a job to do, he will do it. He doesn't let the grass grow beneath his feet."
The couple was recently honored for their efforts at the 2010 SEHS Leadership Celebration. Their volunteer work includes everything from attending OU events and making donations to helping to plan individual events such as this year's Autism Run.
"When it comes to helping our school, the word "no" is not in their vocabulary. Just ask and you will receive," said SEHS Interim Dean William G. Keane. "For the Pinos their work for the university is a family affair."
Though neither attended Oakland, both feel a strong connection to the university community. John has long felt tied to the university and grew up in the faculty neighborhood, but decided to move away for his own college experience.
"If I had it to do over again, I would definitely attend OU," John said. "OU is an excellent institution that doesn't allow students to just take classes, but rather immerses them in the whole collegiate process. It offers a much richer and more intimate experience than many larger schools."
The couple now works to spread awareness of the school's programs and special events, raising funds and making important connections to further the school. As a provider of MEEMIC insurance to the educational community, the Pinos are well versed in the needs of OU alumni, donors and faculty.
"We love the people, love the campus, and love the integrity of the staff," John explained. "I have never met anyone here that hasn't been sincere and honest and genuine. Everyone at OU is just dynamite."
For more information about programs in SEHS,
view the website
.
By giving countless hours to the School of Education and Human Services, Rochester business owners John and Marie Pino are familiar faces on campus.

Created by Katherine Land - Deleted (land@oakland.edu) on Friday, July 2, 2010
Modified by David Groves (groves@oakland.edu) on Wednesday, July 7, 2010
Article Start Date: Friday, July 2, 2010