Thursday, July 1, 2010
Summer Corps provides professional work experience for students
By Katie Land, news editor
Sophomore Krista VanSteenkiste works in the OU Macomb office, as a student marketing assistant.
Deep in its second year, Oakland University's Summer Student Campus Corps program continues to draw rave reviews from student participants. The innovative program places undergraduate students in temporary, on-campus jobs for the summer months.
The corps supplies paid positions through the end of August at up to 40 hours a week to help provide an affordable education to students in increasingly difficult economic times. Students can earn up to $10 an hour, or a maximum of $7,200, over 18 weeks.
This summer, 73 students are benefitting from the internship-style positions, geared to generate meaningful work experience and build professional skills.
Assignments include a variety of longstanding infrastructure projects, including areas such as information technology, grounds and landscaping, recreation and administrative offices. These projects are outside the scope of routine positions traditionally offered by the hiring department.
Sophomore Krista VanSteenkiste has been working in the OU Macomb office on Macomb Community College's main campus throughout the school year. With the summer corps program, she was able to work during the summer as well.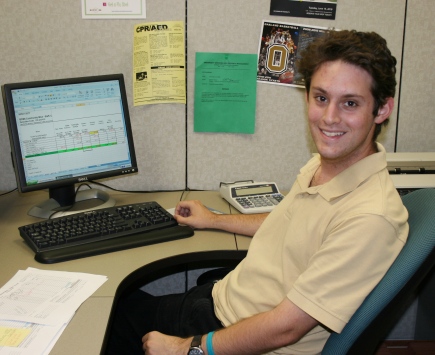 Senior Joe Conigliaro plans to utilize his experience in the Summer Student Campus Corps on his resume.
In her position, VanSteenkiste works to recruit students who have expressed an interest in pursuing a master's degree or continuing education, but is also able to work on events, design flyers and materials and assist with social media and marketing.
As an elementary education major, VanSteenkiste enjoys working with the teachers and teaching students who come through in the office. "This job ties into my major in a lot of ways. I am able to meet with people who are in positions that I hope to be in one day myself. Not a lot of people my age are able to find a job like this."
Senior Joe Conigliaro wouldn't have been able to receive the same resume-boosting professional work experience at a regular summer job.
The accounting major is working full time in Oakland's payroll offices where he works with benefit accounts, establishes work-flow models and researches various tax practices.
"This has been a really great experience that will be very useful in the future," he said. "This will look good on my resume. I wouldn't have been able to get the same kind of experience anywhere else."
For more information about the Summer Student Campus Corps, contact the Financial Aid Office at (248) 370-2550 or
finaid@oakland.edu
.
OU's Summer Student Campus Corps program places undergraduate students in temporary, on-campus jobs for the summer months.

Created by Katherine Land - Deleted (land@oakland.edu) on Thursday, July 1, 2010
Modified by Katherine Land - Deleted (land@oakland.edu) on Friday, July 2, 2010
Article Start Date: Thursday, July 1, 2010