Tuesday, June 15, 2010
MBH offers a new tour, highlighting the childrens' summer activities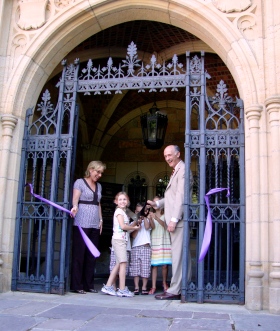 Meadow Brook Hall presents a new summer tour throughout the grounds and estate.
Meadow Brook Hall presents a new summer tour, "Treasures of Childhood: Growing up on the Great Estate."
Imagine a childhood where all the gifts of summer – adventure, freedom, beauty – lay spread across 1500 acres, ready to be explored. The Dodge and Wilson children enjoyed an home ready for horseback riding, swimming, hunting and fishing.
From 1929 until the mid – 1960s, The Hall was the setting of such wonder and adventure for the Dodge and Wilson children and grandchildren. This year, nearly 88,000 square feet of art and books and staircases will be open to the public.
Guests will have the rare opportunity to tour the never before seen playrooms of Danny and Frances Dodge. Visitors will see costumes from the children's collection and original board games will be on display. Radio programs from times past will be heard in Alfred's study. On view in the Fountain Room will be an exhibit of the leisurely activities the children enjoyed while living on the estate.
Visitors can tour the estate daily at 11:30 a.m., 12:30 p.m., 1:30 p.m. and 2:30 p.m. Reservations are not required. Visitors can also tour Knole Cottage (Frances Dodge's near life size playhouse) and enjoy a light snack and refreshments.
Tour admission is $15 for adults and $10 for seniors. Children age 12 and under are admitted free of charge. The Knole cottage tour is $5 for adults and $2 children age 12 and under. A discount is available if purchasing both house and cottage tours.
Meadow Brook Hall relies on tours, special events and museum rental revenue for the preservation and interpretation of this great American estate. For more information call 248-364-6200 or visit
meadowbrookhall.org
.
Meadow Brook Hall presents a new summer tour, "Treasures of Childhood: Growing up on the Great Estate."

Created by Katherine Land - Deleted (land@oakland.edu) on Tuesday, June 15, 2010
Modified by Katherine Land - Deleted (land@oakland.edu) on Tuesday, June 15, 2010
Article Start Date: Tuesday, June 15, 2010