By Katie Land, news editor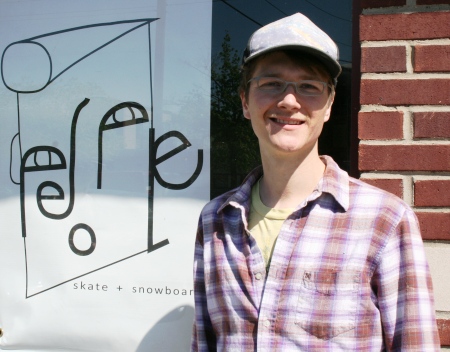 OU alumnus Ben Clarke is set to open a new shop, People Skate and Snowboard on Saturday, May 22.
With a focus on community involvement, high quality merchandise and industry know-how, Oakland University alumnus Ben Clarke, CAS '08, is set to host the grand opening of his new store, People Skate and Snowboard, on Saturday, May 22, in Keego Harbor.
The sociology major turned entrepreneur brings both passion and research into play as he works to create something that is more than a small business, something that can become a vibrant center of the neighborhood.
"My purpose is to take the qualities and fundamental philosophies of the skate culture and unite them in this store," Clarke said. "I'd like to help bring some bigger events to Michigan. It is an overlooked area with lots of talent."
After six years as a "buyer, manager and all around good guy" at TWC Surf & Sport, Clarke built an intimate knowledge of brands and labels while developing a network of retailers and industry professionals across the country. The store closed this spring, presenting an open space in a niche market.
With all the relevant experience and industry connections, opening his own store quickly became a viable option, Clarke said.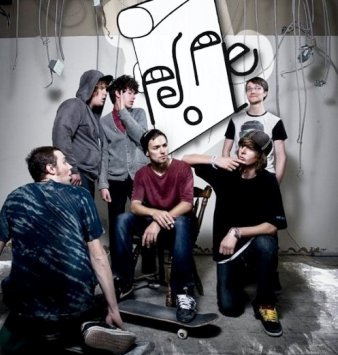 Clarke stands with local skaters and supporters of his new store, opening this May in Keego Harbor.
"I think it is important to know that People will be the only true rider-owned shop of its kind in the area," Clarke continued. "I know all of the products from personal use. There is no marketing hype here, just honest and serious advice on equipment from someone who cares about it."
The shop boasts not only top of the line skate brands, but distinctive duds as well. The apparel section is aided in part by Clarke's wife Jessica, a seamstress and fashion design student. With her help, Clarke has designed and handcrafted original merchandise including t-shirts and stickers. Everything about the shop has been created or reworked from logos and web design to lighting and fixtures.
Even the shop's location was chosen with care. Making his home just down the road in Sylvan Lake with his wife and son, Clarke is putting down deep roots in the community and routinely rides his bike or skateboards in to work.
Involved in the youth skating movement for years, Clarke is on the Friends of Milford Skate Park board, working to establish a community skate park in Milford. Now he hopes to do the same for Keego Harbor.
"In the near future, I want to continue my involvement with the local skateboard and snowboard community by organizing events and working with high school boarder cross teams, while working to build an online store front. I'd like to make a significant impact on snowboarding and skateboarding and see more people get into it and learn to love it, as I have."
Already on his way, Clarke is generating excitement with a series of events and contests, and has assembled an elite skate team to represent the shop at various competitions throughout the state.
Clarke hopes to earn support from the Oakland community by offering a special discount to students with an OU ID for 10 percent off merchandise in the month of June.
For more information, visit the People Skate and Snowboard website at
peopleskateandsnowboard.com
or join the
Facebook group
. The shop is located at 3375 Orchard Lake Rd. Suite B in Keego Harbor.
OU alumnus Ben Clarke, is set to host the grand opening of his new store, People Skate and Snowboard, on Saturday, May 22, in Keego Harbor.

Created by Katherine Land - Deleted (land@oakland.edu) on Wednesday, May 12, 2010
Modified by Katherine Land - Deleted (land@oakland.edu) on Wednesday, May 12, 2010
Article Start Date: Wednesday, May 12, 2010