Friday, April 23, 2010
Grizzly Gala raises $23,000 for OUAA student scholarships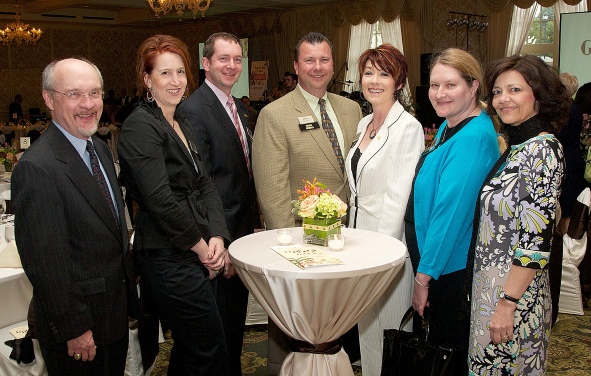 OUAA supporters gather at the first-ever Grizzly Gala.
A total of $23,000 was raised for student scholarships through the Oakland University Alumni Association scholarship fund at the first-ever Grizzly Gala, held this April in downtown Rochester.   
Chaired by OU alumna Lynn Gross, SBA '87, attendees enjoyed a live auction that included tickets to the Ellen DeGeneres show, a getaway to the Rocky Mountains, an upper level suite at The Palace of Auburn Hills to see the Detroit Pistons play and a diamond necklace courtesy of Lucido Fine Jewelry.
"The OUAA Scholarship program allows students to achieve their dream of pursuing an OU degree," Gross said. "Our scholarship endowment fund totals more than $1.2 million, allowing us to provide nearly 40 scholarships each year to high achieving students who deserve an Oakland education."
Scholarships give students the time and energy to focus on their studies, to get involved, and to take part in research, athletics and other activities. "Scholarships allow our students to experience college without financial worry, and that can be such an important factor in their academic success," said Susan Davies Goepp, vice president for University Relations and executive director of the OU Foundation.
Oakland student Rachael Schulskie, a senior in the School of Nursing who will graduate in May, agrees, "This Nursing Alumni Scholarship made it possible for me to maintain my grades, be as active as I wanted, and work at my dream job. I am grateful every day to those who made this possible for me. This scholarship made a difference in my life, so that I can go out and make a difference in the lives of others."
Schulskie will begin working at Children's Hospital of Michigan in the pediatric intensive care unit after graduation.
Many OU alumni volunteered their time to serve on the Grizzly Gala Event Committee and the Honorary Committee with planning for the event beginning more than a year ago.
"I couldn't be more pleased with our results. Kudos to everyone who worked so hard to make this event a success. We couldn't have done it without their dedication," said Adrienne Bass, director of Alumni Relations.
Several local businesses donated in-kind services for the gala, including Trent Design based in downtown Rochester; The Parsonage, a floral business in Clarkston, owned by alumna Liz Stotz, CAS '94, and, the Royal Park Hotel who donated desserts for the evening.
For more information about the OUAA Scholarship program, visit the
website
.
A total of $23,000 was raised for student scholarships through the Oakland University Alumni Association scholarship fund at the first ever Grizzly Gala.

Created by Katherine Land - Deleted (land@oakland.edu) on Friday, April 23, 2010
Modified by Katherine Land - Deleted (land@oakland.edu) on Friday, April 23, 2010
Article Start Date: Friday, April 23, 2010