Wednesday, April 14, 2010
SMEA at OU donates 250 childrens books to Detroit students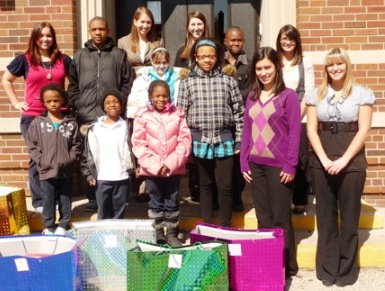 Members of SMEA recently donated more than 250 children's books to elementary students in Detroit.
The Student Michigan Education Association (SMEA) at Oakland University recently donated more than 250 children's books to Kindergarten through fifth-grade students at Dove Academy, an OU charter school located in Detroit.
"As a student organization, we try to donate as much as we can to the schools," said Lindsey Keough, president of SMEA. "We have many activities here on campus that we put on, such as hosting guest speakers, including teachers, principals and motivational speakers."
Each semester, SMEA holds a book fair to raise money in support of local schools, Keough said. This semester's fair raised an estimated $1,800 that went toward the purchase of 254 Scholastic children's books for the Dove Academy students. The books were presented at a school assembly held on March 26.
Along with the book fair, SMEA members also take part in the annual Run for Autism, a campus event designed to raise awareness and financial support of Autism Spectrum Disorders and help improve the quality of life for individuals affected by autism.
Boasting more than 120 members, SMEA at OU is an organization dedicated to helping future Elementary and Secondary school teachers prepare for careers as educators.
The Student Michigan Education Association at OU recently donated more than 250 children's books to elementary students in Detroit.

Created by Katherine Land - Deleted (land@oakland.edu) on Wednesday, April 14, 2010
Modified by Katherine Land - Deleted (land@oakland.edu) on Wednesday, April 14, 2010
Article Start Date: Wednesday, April 14, 2010