Thursday, March 25, 2010
OU and OCC launch concurrent enrollment program, O2O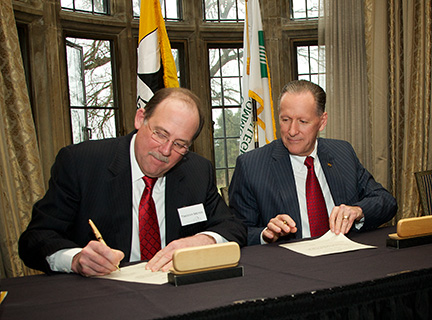 OCC Chancellor Tim Meyer and OU President Gary Russi sign the agreement to create Oakland 2 Oakland.
Oakland Community College and Oakland University announced an innovative, joint admission, concurrent enrollment program at a special signing ceremony on Thursday, March 25, at Meadow Brook Hall in Rochester.
Representatives from both institutions, including OCC's Chancellor Tim Meyer, OU's President Gary Russi, and trustees and administrators from both institutions, were in attendance. Called Oakland 2 Oakland, or O2O, the program is the centerpiece of a partnership between the two higher educational institutions which will bring a seamless higher education option to area residents.
Oakland 2 Oakland will offer:
Joint admission through one application (available online at oakland.edu/o2o)
Concurrent enrollment at OU and OCC, offering the flexibility to take courses at one or both institutions at the same time
Coordinated financial aid
Expanded course selection
Coordinated advising and course planning
Timely completion of associate and bachelor degrees
Access to on-campus resources of both institutions, including housing at Oakland University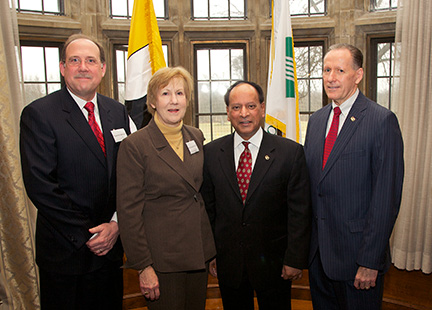 OCC's Chancellor Meyer and Vice Chancellor Martha Smydra stand with OU's Vice President for Academic Affairs Virinder Moudgil and President Russi at Meadow Brook Hall to celebrate the new O2O program.
"Oakland 2 Oakland is designed to significantly expand degree options for our community. At OCC, university-bound students comprise nearly half of our roughly 29,000 enrollees this semester," said Meyer. "We want to do all that we can to help our students succeed quickly and with outstanding support along the way."
"Our concurrent enrollment program with Oakland Community College is a vital component of a shared vision held by OCC and OU to provide our region with outstanding opportunities for advancement in education and careers," said Russi.
Oakland 2 Oakland is designed to both help move students toward degree attainment more quickly and to lower the cost of a college education. Students in the O2O program will be able to earn their associate degree, achieving a useful credential in the job marketplace in the near-term, while continuing to work toward their bachelor's degree.
Oakland 2 Oakland is slated to begin in January, 2011. For more information, visit
oakland.edu/o2o
. To talk with an OU advisor, call (800) OAK-UNIV or (248) 370-3360. To talk with an OCC counselor, call 248-341-2000.
OCC is one of the nation's leading community colleges. With five campuses throughout Oakland County, it offers degrees and certificates in more than 160 fields, including university transfer degrees in business, science and the liberal arts, as well as workforce training and certificate programs. More than half a million students have enrolled at the college since it opened in 1965. Visit OCC online at
oaklandcc.edu
.
Dedicated to delivering a distinctive higher education experience, Oakland offers 132 bachelor's degree programs and 117 graduate degree and certificate programs. Visit Oakland online at
oakland.edu
.
Oakland Community College and Oakland University announced an innovative, joint admission, concurrent enrollment program on Thursday, March 25.

Created by Katherine Land - Deleted (land@oakland.edu) on Thursday, March 25, 2010
Modified by Katherine Land - Deleted (land@oakland.edu) on Friday, March 26, 2010
Article Start Date: Thursday, March 25, 2010