Friday, March 5, 2010
Distinguished economics expert to present honorary lecture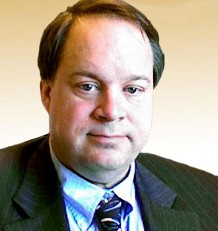 J. Bradford DeLong is the presenter at OU's annual Gorlin Memorial Lecture.
Oakland University's School of Business Administration is pleased to welcome J. Bradford DeLong – a prominent public intellectual, economist and professor at the University of California at Berkeley – as presenter of the 2010 Alice Gorlin Memorial Lecture on Wednesday, March 10.
DeLong is an internationally renowned scholar and expert on international economics and finance. He currently serves as chairman of the Political Economy of Industrial Societies major at Berkeley and is a research associate with the prestigious National Bureau of Economic Research.
Both a graduate of and a former lecturer at Harvard, DeLong served as Deputy Assistant Secretary for Economic Policy with the U.S. Treasury from 1993 to 1995. He worked on the Clinton Administration's 1993 budget, on the Uruguay Round of the General Agreement on Tariffs and Trade, on the North American Free Trade Agreement, on macroeconomic policy and on the first health care reform effort.
The upcoming lecture – sponsored by the Alice Conner Gorlin Memorial Fund, the SBA's Executive MBA program and the SBA's Center for Integrated Business Research and Education (CIBRE) – will take place in the Oakland Center on the Campus of Oakland Universitty at 7:30 p.m. on March 10. It is free and open to the public.
For more information, visit
oakland.edu/gorlinlecture
. To register and to request special accommodations for persons with disabilities, contact Carrie Sliwinski at (248) 370-3286 or
cmking@oakland.edu
.
Professor and economist J. Bradford DeLong will be the presenter of the 2010 Alice Gorlin Memorial Lecture, held on Wednesday, March 10.

Created by Katherine Land - Deleted (land@oakland.edu) on Friday, March 5, 2010
Modified by Katherine Land - Deleted (land@oakland.edu) on Friday, March 5, 2010
Article Start Date: Friday, March 5, 2010