Recently The Fountain's roving interviewer caught up with Nancy Bulgarelli, hired in August 2009 to be the Founding Director of the Medical Library of the Oakland University William Beaumont School of Medicine. We asked her some questions, and here's what we learned: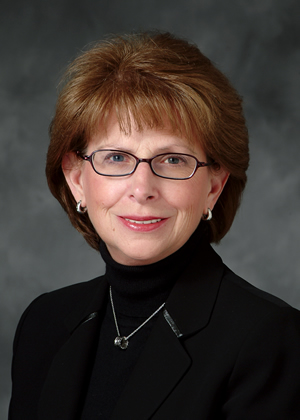 TF: Please tell us about your career before coming to OU. What were you doing?
I have been in libraries for over 30 years, mainly in large, academic, teaching hospital libraries. Most recently I was director of libraries at the Henry Ford Hospital System, the largest non-university teaching program in Michigan. Before that I had been director of libraries at Beaumont Hospital, which also has a very active teaching program. So I was happy to be able to "come home" again to the OUWB School of Medicine. I am really enjoying the academic life.
TF: What drew you to the OUWB School of Medicine's Medical Library?
I relish the idea of being part of something brand new. The School will feature a truly innovative curriculum with a stress on information literacy. I was glad to be part of Kresge Library, with its major commitment to the information literacy teaching mission. It was just a really good fit.
TF: How do you compare medical librarians to the regular academic librarians? Is there special certification that medical librarians have?
Most medical librarians have concentrated on the health science libraries track in their masters program. During their career, many of them obtain certifiation the Academy of Health Information Professionals (AHIP), whic is part of the Medical Library Association. Upon graduating with their master of library science degree, they usually obtain provisional certification from AHIP, but then put together a portfolio, including continuing education courses, publications, grants, and service on professional committees, etc., to obtain full certication after years of practice. Medical librarians need to be recertified by AHIP every 5 years; there are different levels, from provisional to full to senior to distinguished.
TF: What makes a medical school library different from a hospital library?
Here at the School of Medicine on the Oakland University Campus, we are primarily supporting years 1 and 2 of medical education, which focus on its scientific basis: biochemistry, physiology, anatomy, etc. So our resources here focus more on supporting that learning process while introducing students to point of care resources. Medical students typically spend their years 3 and 4 in the hospital, where the Beaumont libraries support clinical practice by providing point of care resources for medical decision making. It's a matter of emphasis; there will be overlap.
TF: Can you describe for those of us who don't know about it, what the process of educating a doctor is like?
Medical education consists of 4 years of medical school, typically 2 years in the classroom, followed by 2 years in a clinic or hospital doing rotations called clerkships. This is followed by 4 years of residency, and then often 1-3 years of specialization. However, our School of Medicine will be unusual in that our students will be doing clinical learning from year 1, and so I will be coordinating closely with Beaumont Hospital librarians to support students.
TF: As Founding Director, do you feel a special onus upon you? What are your primary goals?
Yes. I'm helping to create something that needs to be sustaining, that serves faculty and students well, that will be highly supportive of the curriculum and of faculty research. I need to build a collection very highly integrated with the goals of the school.
TF: What will the Medical Library be like? Will there be lots of books, or will it be all electronic?
Our goal is to be primarily electronic wherever possible; students prefer electronic materials, and in fact some of the clinical point of need tools are only available digitally. Dean Folberg shares this vision of a primarily electronic library. We will have some print reference/reserve materials like atlases, core textbooks. Our overriding goal is that the collection always be tightly integrated into the curriculum.
TF: What will the library space be like?
We have dedicated space within Kresge Library, a medical library study room which will also serve as a classroom for information literacy training for medical students, as well as individual study rooms. But we anticipate that the medical students will want to use the full amenities of Kresge Library along with other OU students. Our medical school will be special in that we are not off on a separate campus; the medical students will be part of OU campus life. This was identified as a strength by the LCME (the licensing board that accredits medical schools and has given OUWB School of Medicine its provisional accreditation so that it may begin to enroll and teach students).
TF: Will only medical students be able to use medical library materials and resources?
No, in fact the goal is to have materials available to the entire OU community. I foresee that at the very least, our materials will be very useful for Nursing and Health Sciences programs, and we welcome the Oakland University community to use our resources.
The Fountain's roving interviewer catches up with Nancy Bulgarelli, the Founding Director of the Medical Library of the Oakland University William Beaumont School of Medicine. She tells us about her plans for the library, how medical students get educated and illuminates other mysteries.

Created by Frank Lepkowski (lepkowsk@oakland.edu) on Thursday, March 4, 2010
Modified by Frank Lepkowski (lepkowsk@oakland.edu) on Monday, March 15, 2010
Article Start Date: Thursday, March 4, 2010