By Katie Land, news editor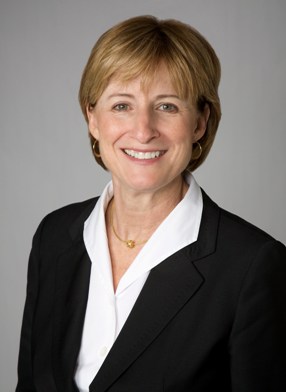 NASPA honors OU's Mary Beth Snyder with the "Pillar of the Profession" award.
Oakland University's Vice President for Student Affairs, Mary Beth Snyder, will receive the prestigious "Pillar of the Profession Award" from the National Association of Student Personnel Administrators Foundation.
Every year, NASPA recognizes distinguished individuals who have served as leaders, teachers, and scholars in student affairs and higher education. This year's winners will be honored at the 2010 NASPA Conference held March 6-10 in Chicago, Illinois.
Snyder was selected for embracing and emulating NASPA's core values of diversity, learning, integrity, collaboration, access, service, fellowship and the spirit of inquiry.
"Mary Beth is very deserving of this award," said Glenn McIntosh, assistant vice president for Student Affairs and dean of Student Life. "She is a person who has dedicated herself to the profession. Over time, Mary Beth's energy and commitment has not fallen off. She is truly a pillar of this community."
The Pillar of the Profession awards recognize individuals of professional distinction who have served in leadership roles in NASPA, either regionally or nationally; and are recognized or remembered by colleagues, friends, students, or student organizations for extraordinary service and contributions.
Award recipients are nominated and supported for designation as a Pillar by their colleagues, students, friends, or others. A gift of $2,000 is made to the foundation to further research and scholarship in student affairs in the nominee's name.
Since joining OU in 1994, Snyder's work across campus has been far-reaching, McIntosh said. Throughout the various roles she has served in at OU, she has constantly expanded and developed programs and services from assistance for students with disabilities to creating new student organizations to affairs in housing.
"You can look across the university and see a landscape of student leaders and professionals who have been touched by Mary Beth," McIntosh continued. "Throughout her career as a student affairs professional, her influence has made a positive difference to countless students, staff and faculty."
With more than 11,000 members that represent 29 countries, NASPA is the premier professional association for student affairs administrators, faculty, graduate and undergraduate students.
Snyder's involvement in a variety of professional organizations such as NASPA has enabled her to bring new and innovative ideas and information to OU, according to McIntosh.
"Mary Beth is very engaged in making a difference, both professionally and personally. She puts in countless hours towards people. Her efforts have enabled many people in the Oakland community to grow and to improve."
OU's Mary Beth Snyder, will receive the prestigious "Pillar of the Profession Award" from the National Association of Student Personnel Administrators Foundation.

Created by Katherine Land - Deleted (land@oakland.edu) on Wednesday, March 3, 2010
Modified by Katherine Land - Deleted (land@oakland.edu) on Wednesday, March 3, 2010
Article Start Date: Wednesday, March 3, 2010