Wednesday, March 3, 2010
Grade schoolers learn about different cultures from OU students
By Dan Bodene, contributing writer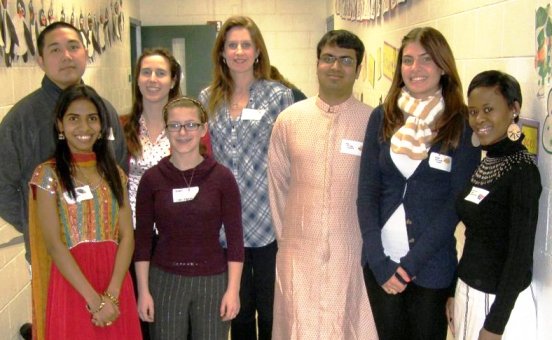 Students and members of Oakland's ISSO department offer a diverse cultural experience to local grade school students.
A group of Oakland University students brought a hands-on learning experience with an international flavor to an area elementary school this February.
Seven students from OU's International Students and Scholars Office (ISSO) shared the culture of their home country with students at Harvey-Swanson Elementary School in Ortonville, as part of the school's cultural celebration, Festival Internationale. This was the second time ISSO had collaborated with Harvey-Swanson Elementary; the school's inaugural Festival Internationale was in 2006.
Alena Vackova from the Czech Republic (an OU International alumna), Palesa Refilwe-Serunye of South Africa, Tanmay Kulkarni and Radhika Kammisetty of India, Ana Luiza Furlan of Brazil, Patricia Barbosa of Brazil and Chatchai Wanintradul of Thailand each gave a 45-minute presentation to the Harvey-Swanson students, who ranged in age from 5-12 years old.
"It's a way to bring diversity to schools and educate kids and teenagers beyond what they read in textbooks and see in the media," said Petra Knoche, assistant director of ISSO.
Kulkarni said the Harvey-Swanson students were very inquisitive. "The kids wanted to know all about India – they listened to everything we said. The best part was when we showed them a video we had taken in India. It was a really good experience."
"We did six presentations – three in the morning for the younger kids, and three more in the afternoon," said Furlan. "I had a PowerPoint presentation and showed pictures of the Brazilian flag, where I live, some of the Amazon, and Brazilian food. I think they learned something, because they all had questions," she said.
Helen Clemetsen, principal of Harvey-Swanson elementary, added, "There were 15 different cultures represented at Festival Internationale. The kids absolutely love it – it's really a great day not only for the students, but also for our staff."
ISSO has been making presentations among area schools for several years, said Knoche. "We work with Stony Creek High School [in Rochester Hills] the most, and several of their students came to study at OU after they graduated," she said. "They're now part of our International Allies program, where they help introduce international students to American life.
"It's nice of our students to volunteer their time for visits like this," said Knoche." The more we do to celebrate diversity, the more beneficial it is."
For more information about Oakland's international programs, visit the Web site at
oakland.edu/isso
.
Seven international students from OU brought a hands-on learning experience with an international flavor to an area elementary school this February.

Created by Katherine Land - Deleted (land@oakland.edu) on Wednesday, March 3, 2010
Modified by Katherine Land - Deleted (land@oakland.edu) on Wednesday, March 3, 2010
Article Start Date: Wednesday, March 3, 2010