Friday, February 26, 2010
Community leaders address new partnerships, vibrant changes
By Katie Land, news editor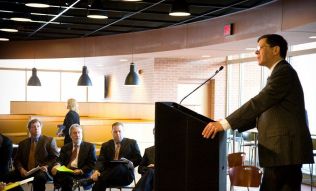 Dr. Robert Folberg discusses the Oakland University William Beaumont School of Medicine at a luncheon.
In the midst of Michigan's economic woes, local community and university leaders attended an annual Community Outlook Luncheon at Oakland University to offer an update on positive initiatives and to outline plans for a vibrant future.
Sponsored by the Rochester Regional Chamber of Commerce, the luncheon offered an opportunity to highlight partnerships and new ventures, including a new partnership between the Oakland University INCubator and the Rochester Downtown Development Authority.
"We're pleased to be able to provide the backdrop for this annual event that attracts nearly 300 community and business leaders," said Laura Mutz, communications director for University Relations. "The Rochester Chamber is a close partner and we value their contributions to OU and the community."
Speakers at the event included James Creech, superintendent of Oakland Township; Bryan Barnett (SBA '98), mayor of Rochester Hills, and Jeff Cuthbertson, mayor of Rochester and an OU Thomas M. Cooley Law School alumnus.
Prior to the program, Dr. Robert Folberg, dean of the Oakland University William Beaumont School of Medicine, addressed the community regarding the school's recent accreditation by the Liaison Committee for Medical Education. The school is on track to begin recruiting students for its charter class, set to begin in fall 2011.
"Not only will the school provide new medical education opportunities for students, it will also help to create jobs and infuse the region's economy with millions of dollars," said Oakland University President Gary Russi. "We are optimistic that the school will help to position this region as a thriving center for biotechnology and biomedicine — accelerating the state's transition from a manufacturing-based to a knowledge-based economy."
The Oakland University SmartZone INCubator partnership will create a local Micro Loan Fund, a program geared to design a community investment program that would provide loans from $5,000 to $50,000 to entrepreneurs, early stage ventures and growth companies.
Organizers anticipate the loan fund, which will be available in the next 12-18 months, will attract new companies and encourage successful companies to expand their operations in the city.
Community leaders gathered for the annual Community Outlook Luncheon to offer an update on positive initiatives and to outline plans for a vibrant future.

Created by Katherine Land - Deleted (land@oakland.edu) on Friday, February 26, 2010
Modified by Katherine Land - Deleted (land@oakland.edu) on Friday, February 26, 2010
Article Start Date: Friday, February 26, 2010